Links
My tours:




Stat.:
2000 - Dolomites
Lake Garda
Venice>
29th june - 16th July 2005.

Although the tour that I had ont he legendary climbs of the Tour de France in 2004 temt me back to indulge in nostalgia, this year (2005) I decided to bicycle on the cols of the Giro d'Italis and the Tour de Suisse, and beside it to take part int he hard Fausto Coppi bicyclemarathon / gran fondo, which is a real challenge with its 187 km and has 4400m heightdifference.
29th June 2005. : Innsbruck - Brenner pass (1374 m) - Sterzing - Passo Pennes - Bolzano: = 134,42 km + 2087 m heightdifference
After travelling through the night by train I arrived at Munich int he early morning, from where I went on travelling to Innsbruck. My first pass the 1374 m high Brenner was only a warm up before the pass I had to conquer int he afternoon. The ascent went in a friendly valley with variable steepness, with nice views at the start to the Viaduct of the highway, then at the end with a few kilometers of middle hard ascent. From Sterzing I had to climb …kms and 1267 m heightdifference to the 2215 m high Passo Pennes. IN the middle of the climb there was beautiful panorama to the valley of the highway and to the snowy mountains situated at the border. From the pass I was rolling down 50 km long and arrived about 2000m lower at Bolzano. Camping: Bolzano

30th June: (40 km + 370 m heightdifference): Bolzano - TRAIN - Milano - Torino - Cuneo - Demonte:
I had 3 days left to the bicyclemarathon. The first two I wanted to spend with climbing 2-3 cols in France, and the last with having rest. I started the col de la Lombarda (2350m) together with a polish biketourer. Although he was on a 2-3 months long bicycletour that started in Istanbul, his panniers were halfa s large as mines. While we were pushing the pedals between high rockwalls, then on meadows with flowers and views to other nice mountains we were speaking about our tours, ascents we had already climbed, experiences, plans. I liked this col because it had romantic canyon-like part, bubbling stream, and the upper part was more friiendly with nice meadows, flowers and panorama. There were not too many cars, si I can recommend it for bicyclists, if they had are string enough for it. AFter a fast downhill, we were cycling on a long, light ascent / valley to St Etienne de TInee, where we spent an hour int he evening pleasantly. Camping: St Etienne de Tinee

1st July (124 km + 3262 m szint): St Etienne - Col du Moutiere - Col du Restefond - Cime de la Bonette - St Etienne - Isola - Col de la Lombarda - Demonte
In the morning we met ont he main square in order to cycle togehter up to the 2454 m high Moutiere pass, that was unknown for Robert, before his tour. On the steep part - because after our morning Robert went on his tour northwards and because of this he had to carry all of his pack - we climbed with another pace Sometimes I stopped for taking photos, videofilms, while he bicycled up without any stop.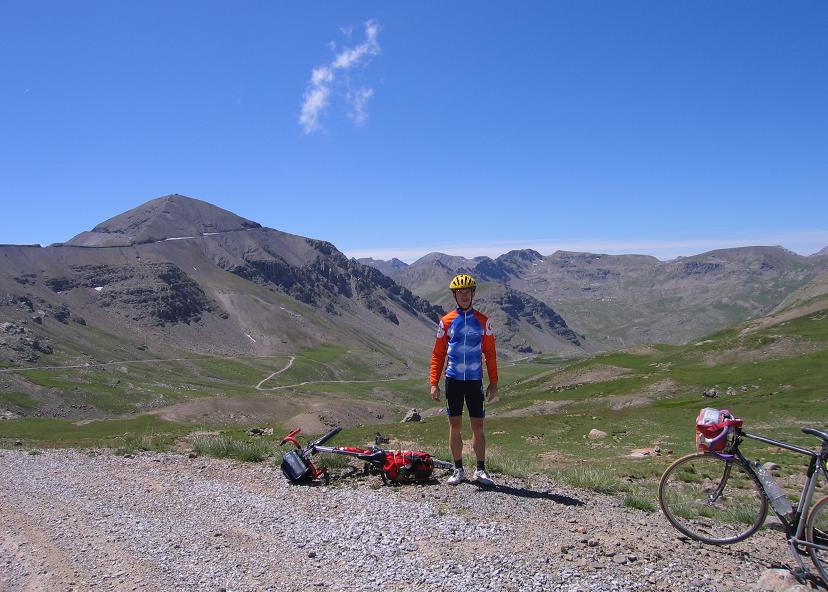 I realized, he is not enough interested in enjoying the nature, the views, etc, but the statisticsm and that the actual col is how much col of him through his life. The road went in a nice forest, there was nice stream, flowers, and views to the mountains around. At halfway up I realized, that the steep and bare mountain / rockwall just next / above the road is the Bonette (2802 m), which is known as the highest col of the Alps. From the col du Moutiere (2454 m) we had to cycle 3kms on a stony minor road to the junction north from the Cime de la Bonette. WE had beautiful, fantastic views to the asphaltroad onto the Bonette, from a such near place we didn't want to leave out that. WE didn't miss cycling up. From the 2860 m high peak that we reached by foot from the road we got a fantastic roundpanorama. WE could see green plants only downwards; When we looked far away, the mountains seemed, as we were ont he Moon; it was lifeless. I finished my day with climbing the colle de la Lombarda (2350 m), which I knew from the lst day, when I climbed it from Italy. The country "became" really beautiful above Isola 2000, when the road twisted on the sunlighted meadows, from where there were nice views to the valley and mountains. I sat down onto the grass to eat a little bit food, while I was enjoying the nature, panorama, fresh air, sunshine, calmness. At the top the cows were driven to their nightplace. Camping: Demonte

2th July. (60 km + 60 m heightdifference): Demonte - Cuneo - Centallo: I didn't want a hard day before the bikemarathon, so ont hat day I only cycled down to the pansion of Centallo, with which owner I had a few e-mails about reserving a room for 2 nights. I spent the afternoon with surfing ont he internet with writing my memories and with having rest. I sent mail to my parents and friends with pleasure.
Accomodation: Centallo, panzio: 30 EUR / night

3rd July. : Centallo (night) - Fausto Coppi granfondo: Cuneo - Madonna di Colletto - Demonte - Colle Fauniera - Sampeyre / Elva - Colle Sampeyre - Cuneo - Centallo = 220 km + 4507 m heightdiff
At 7 am. 1-2000 participants who were wearing the jerseys of the marathon left Cuneó to perform the challenge of the Fausto Coppi granfondo. The 187 kms of the long distance had three main obstacles (and 4400m heightdifference) in front of the participants: the 1310 m high and 9,4% steep Madonna del Colletto, the 2481 m high Colle Fauniera / Pantani, and at last (only for the participants for the long distance) the 2284 m high, 8,2% steep Colle Sampeyre. I enjoyed very much the steep climbs, the returning back after taking photos, and when I overcame others (in the last third of the participants).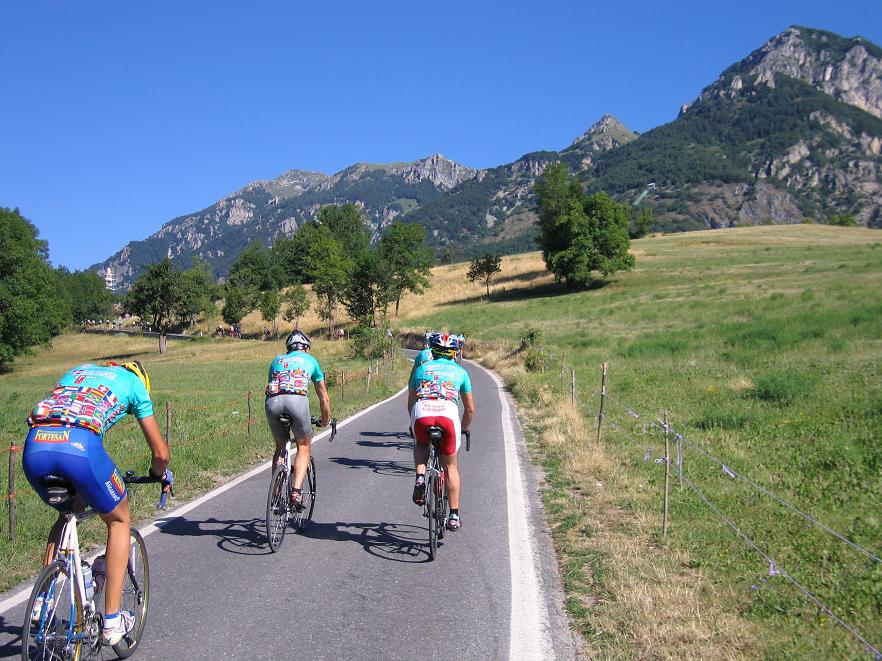 It was a good feeling to hear the encouragements from the local people along the road. The Colle Fauniera was a climb in an open valley with meadows, views to the valley and to the bends and road - which was nice with the row of cyclists on it - and to the rocky mountains. On the col I recognized the monument of Marco Pantani: that was the col, which was named about him. After, that the shorter and the long distance went on other directions, I met with only a very few bicyclists. On the Colle Sampeyre I went on cycling with a fresh / good speed, especially by a touringbike. But when I found the nature, view nice, I didn't hesitate to stop for a few minutes. In the last 2 kilometers - 4-5 racer came into my view, which made me feel more stronger, so I tried and succeeded in catching them. 3-500 m before the col, I overcame them. I was interesting thing for a few people, racer, because they looked at me, my usual shoe, clips, and touring bike. After that I spent 15 minutes at the col, in the valle I was the last perticipant, so I could enjoy the car of the organizer behind at me. It was just in the time trials of the Tour de France: The last hour I overcame 2-3 other racer and arrived at the finish with a better time (10 and a half hours) than I planned for me (max. 12 hours). After that fantastic granfondo, I could eat the fine spagetti at the Finish with smile on my face and with proudness in my heart. I got acquainted with a friendly guy at the last check point and at the finish; he was Ge from Holland but lived in Italy for a while. Accomodation: Centallo, panzio: 30 EUR / night

4th July (100 km + 1677 m heightdifference): Centallo - Cuneo - Demonte - Col de Larche - la condamine chatelard:
Althourg Ge recommendeed me to have a rest day, I went on cycling without a rest day towards France through the 1991m high Col Larche. On the upper half of the not too hard ascent I got 3 times a half an hour long rain, which caused that I reached the at 7 pm. Although the last 5-6 kms went through / between small clouds, frog, and I could see any sunshine 30-40 kms far away from me, I found this section moody. Due to dark clouds and a heavy rain in the evening, I postponed the climb of Col du Vars to the next day. Camping: La condamine Chatelard

5th July (119 km + 2642 m heightdifference) : la condamine Chatelrad - Col du Vars - Guillestre - Briancon - Col du Granon - Briancon
After last year, second time I visited the somewhere steep, 2109 m high Col du Vars in a cold, but clear weather. The clearness and the lights were just the same, then in 2004. The north descent gave me the first cold experience of my tour in 2005. I had to put on a few clothes not too feel the cold. Before the roll-down I had to pull the gloves-end of the jacket onto my hands. On the descent I reached my 100.000th km after my 14-15 year bicycle.-carreer. For the afternoon I planned two cols to climb. The first, the 2413m high - and averagely 9% steep - Col du Granon surprised me with very beautiful views towards Briancon and to snowy peaks towards La Meije, and the Encrins mountains, but opposite it, the wind - when the mountains couldn't shelter me, made me angry, because it was strong and the climb was steep. I shouted at him, but it didn't made him lighter .:-) I would have reached my second col after sunset, so I chose to look around and walk in Briancon instead of a struggle again. Camping: Briancon

6th July : Briancon - Col Montgenévre - Cesana Torinese - Sestriere (2035 m) - Depot - Colle delle Finestre (2178 m) - Busolleno = 111 km + 2526 m heightdifference
I started my days early, because I had 3 passes and a lot of experiences in my daily plan. Bicycling out of Briancon I realised that I could hardly see anywhere not too see a castle. I saw 4-5 of them at the same time. The col de Montgenévre isn't either a famous pass, but it was beautiful: I had nice views to the valley and the mountains towards / behind / next to Briancon. The traffic was a little bit heavy, there were a few trucks. After the 1st italian col, the Sestriere (2035m) - that couldn't show me surprise - I was looking forward to the Colle Finestre (2178 m), on which north climb (half of it is dirt road, without asphalt) the racers of the Giro d'Italia had serious fights. I planned to have stop 2-3 times on the first 5-6 km long, 10% steep part, but I felt so well, fresh, that in a 64 minutes long time I could cycle up 720 m heightdiff. on 7 kms, although I had 24 kg weighted pack on my bicyle. On the following km maybe I didn't watch well enough, because I had to cycle 23 km-s on dirt road. After a light rain, when I went out from the forest, the nature showed me fantastic view and alpine lights: there were a few small clouds, and cloudlets in front and between the mountains, there were little eahalation above the wet and fresh surfaced asphalt road and somewhere light sunshine coming through the clouds. That was just on the Colle Finestre! On the last 3 kms I didn't met any cars, only a shepherd, his dog and the sheeps.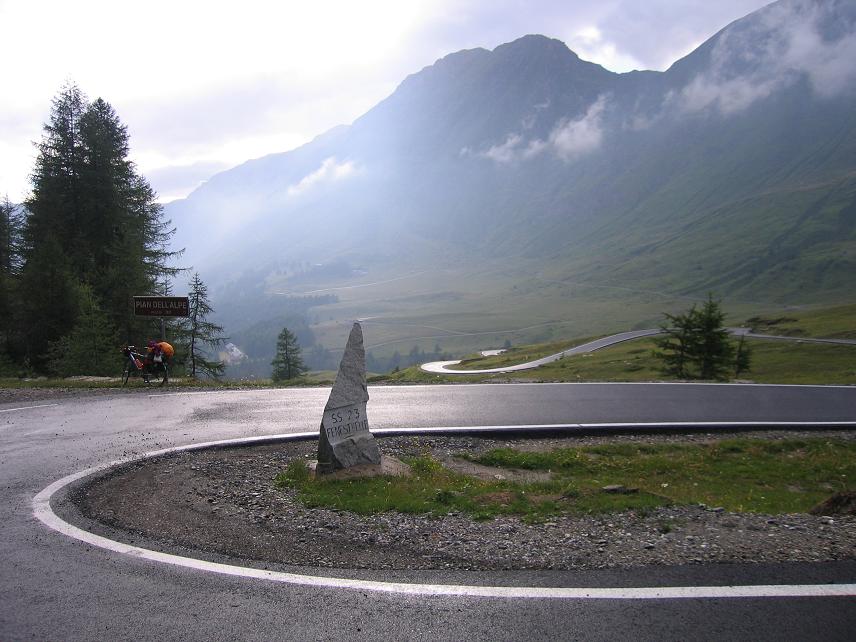 Arriving to the Col, I "could see" Simoni, di Luca, Savoldelli", as they were fighting, climbing up to there on the dirt road, and they start the fast descent. In the opposite direction I had to be careful on the dirt road; in the hairpinbends I had to take them by 6-8 km/ h; in the straight sections I let the bike rolling by 20-25 km/h. Although the lower ca. 10 kms were asphalted, the bands followed each after 2-400m, so I couldn't roll fast, but when I arrived into the valley I felt my hands tired, because of braking. Camping: Busolenno

7th July (200 km + 2070 m heightdiff.): Bussoleno - Torino - Cuorgne - Ceresole Reale - 2040 m high - Ceresola - Cuorgne - Busano
In the morning I cycled 70 kms ont he plain at the feet of the Alps by Cuorgne. I had some misfortune (detour, ELTÉVEDÉS, AND TO WAIT BECAUSE OF THE FEMALE Giro d'Italia), so I could start towards the 2612 m high Colle Nivolet unfortunately at 4 pm. After 3-4 km 10% steep section in a more and more cold tunnel I reached the level of 1500m, where I was surprised that the direction of wind changed. Because the air was a little bit cold and it was cooled by the wind, at the level about 2040 m, at half past 8 I decided to turn back. It was a hard decision, but I had to do this. If I go on cycling, I would had to cycle ca. 1 hours (600m heightdiff.) up, the degrees would be there about 2-4, and I would have reached the Colle Nivolet at the border of darkness. In Ceresole (1500 m) I saw a thermometer, which showed me that I had right to turn back. It was 10 degrees Celcius, so at 2040 m maybe it was about 7 degrees, but because the cold wind I felt about 4 degrees Celsius. At 2612 m I would have felt zero. Accomodation - motel: : Busano

8th July (83 km + 220 m heightdiff.): Busano - Chivasso - TRAIN - Luino - Bellinzona - TRAIN - Airolo:
Because for next day I planned a serious mountain-bicycletour, this day wisely I tried to travel by train as much as I can. Beside travelling I cycled 80 kms; first I had to hurry to catch the train in Chivasso. I was pushing the pedals so much, that for half hour I reached about 28-30 km/h. After arriving at the shore of the Lago Maggiore (Luino), I carried on cycling along the lake, next to flowers, palmtrees. In Switzerland, next to Bellinzona I experienced very busy roads and serious traffic. From Bellinzona I travelled by train up to Airolo (1175 m), where I wasn't happy to see people in jackets and long trousers. It wasn't warm.
Accomodation: Airolo, motel: 38 CHF / night

9th July : Airolo - Nufenenpass (2478 m) - Grimselpass - Gletsch - Furkapass (2431 m) - Göschenen - TRAIN - Airolo = 100,89 km + 2866 m heightdifference
After a light day I planned a hard one with climbeing 3-5 cols in Switzerland: Nufenen, Grimsel, Susten and the San Gottardo. In Airolo I started my cloudy (I could hardly see the Sun) day with the 2478 m high Nufenen pass. As I saw on posters the Gigathlon, the bicycle part of triatlon relay race was organized through the Nufenen and Grimsel pass.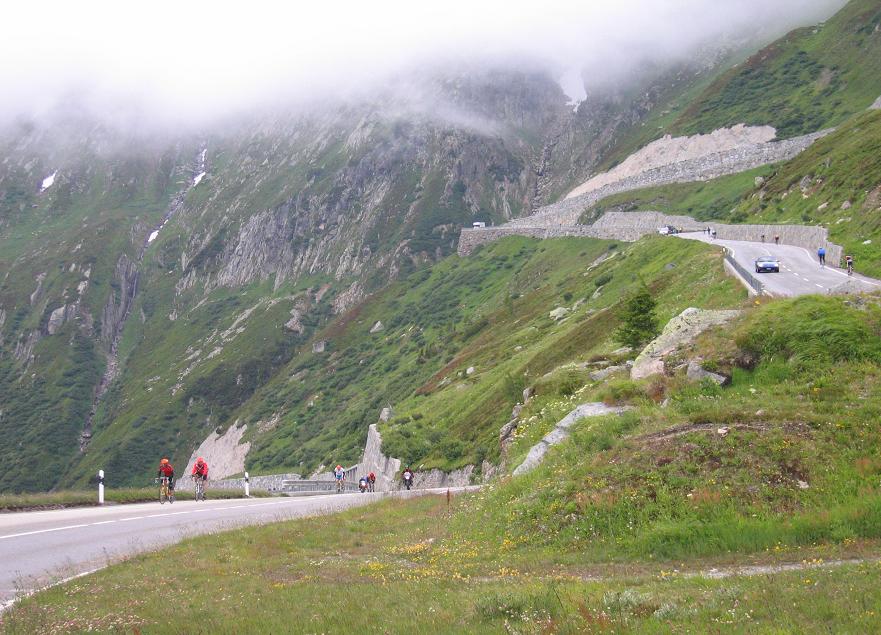 AS time was passing by I met with more and more racers, which gave me a pleasant feeling. On the Nufenen pass I saw several snowspot. The country was nice, but the grey clouds told me: it seemed to be there will be rain. On the descent I had to take a cap onto my head. In Oberwald I was waiting for the end of the rain for one and half hour long. I went on cycling in a drizzling rain. Between the lot of racers I could push the pedals well. Sometimes others overcame me, other times I went ahead of thers with my bike with 4 kg pack on it.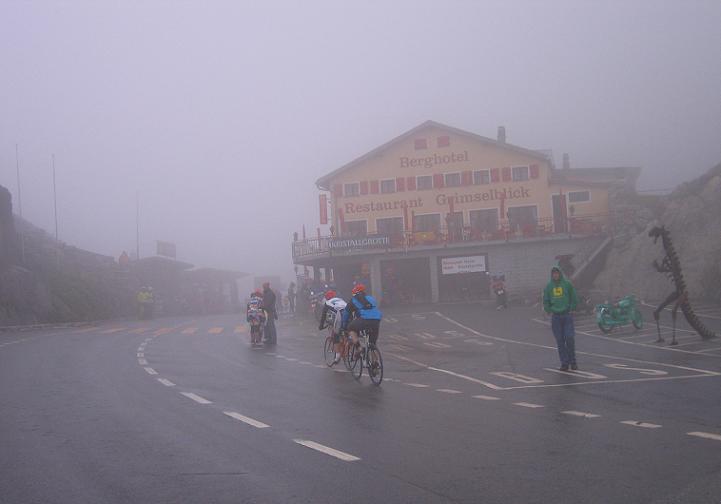 Coming out from a tunnel, a very steep mountainside was in front of us, the top was in clouds, and a road was twisting up onto it: that was the Grimsel passroad. In such a bad weather alone maybe I couldn't feel well to went on cycling there an not back to home, but between others it was a feeling, an experience. I could enjoy it. I had good photos about racers fighting with the climb and with the cold, bad weather. In the last 2 kms we went into the cloud and rain; the air was about 6 degrees Celsius. I had no problem with it, because I had warm clothes in my pack, but others... Along the last 500m more and more fan was standing and clapping, and - as on the Fausto Coppi granfondo - they gave me so much power that I could overcame 10-15 racer with my heavy touringbike and 4 kg pack. On the col we could see only ca. 100-200 m in the frog. Carefully I didn't risk the (maybe rainy) Sustenpass, but turned back and planned the Furka and Gotthard pass back to home. The 7 km long descent was so cold, that in Gletsch I moved my legs, arms in vain, I couldn' t feel much warmer. On the Furka climb was much better. AS in 2001, in 2005 I felt also well and could cycle with a fresh speed. For a time I had hope to see the Sun again, but arriving up to the top, a cloud went there and on the descent I got rain too. Towards Andermatt everything was grey and rainy, so it was logical to take the train from Göschenen to Airolo. (Next they I climbed Passo san Gottardo which was a unforgottenable memory.)
Accomodation: Airolo, motel: 38 CHF / night

10th Júly.: Airolo - Passo San Gottardo - Airolo - Biasca - 3 kms beside Bellinzona - Mesocco - Pian San Giacomo = (19 km + 2000 m szint):
Previous day I had to cancel climbing Gotthard pass, but as there was no rain int he morning, with panniers on my bike I started to climb Passo San Gottardo (2108 m). The cars mostly decided to travel on the fast road, ont he old, cobblestoned road in Val Tremola was calm and quiet. I enjoyed it much, there was only the weather, why it wasn't perfect. It's an other thing when I cycle in a jersey, and can sit onto the floor and there is no cold wind.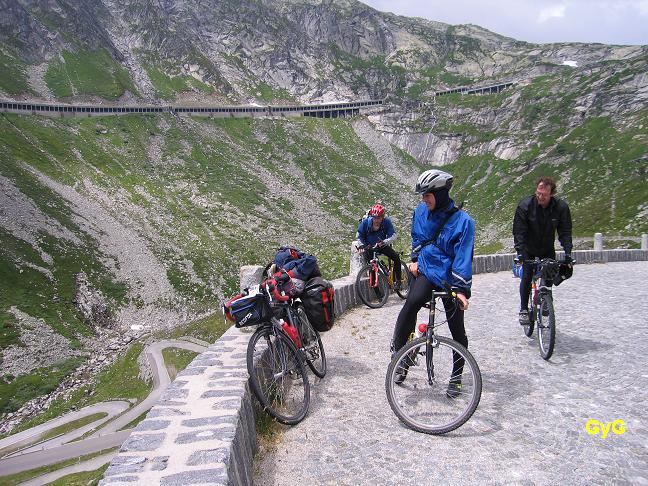 It's a beautiful col: the thing that I enjoyed the most was the high number of hairpin-bends and the history of the road which I could feel because of the cobblestones. The view was also nice. Although I had 24 kg weighted panniers, at the half of the climb I found me just behind 3 mountainbikers, who cou8ld't follow me, with light bikes. They should be hobbybikers. After having rest ont he cl and enjoying the warm air in the building on the col, I decided to downhill ont he fast and asphalted main road. After that the road went out from the tunnel I had to catch the KORMÁNY very much, because the wind was very strong. I backwind i downhilled by 76-78 km/h, buti n headwind I slowed down to 45 km/h. Leaving Airolo I carried on rolling down, and at the level of 600m at last I could feel the warm air and the summer! I could take off my long sleeves clothes, and could feel the air on my skin. I was cycling about 30 kms in a nice valley, when the passroad of the Passo san Bernardino sterted. That day I planned to climb above 1000m, because next day I wanted to reach the 2065m high col before noon. There was no camping int he sorrounding of Mesocco or Pian san Giacomo, so at last - baceuse of a light rain - I stopped next to a restaurant, next to trees to build up my tent there. Because of the strong wind and dark clouds I felt afraid/fear: Will I have a calm night, or I will have to fight against wind and rain ,

11st July. Pain San Giacomo - Passo San Bernardino (2065m) - Thusis - Tiefencastel - Julierpass (2284 m) - Silvaplana = 120 kms + 2458 m heightdifference:
Thre was no shop, so i had to start climbing with empty stomach. That's not a good start for a day! After ca. 400m heightdifference, in san Bernardino town I saw 12 degrees celsius on the thermometer. It wasn't a good feeling that i should go next to a wall onto a bench not to feel the cold wind and to eat breakfast without feeling cold. I was enjoying the shopping more then else, because there was warm. After the town I was cycling through a beautiful nature, forest, between fir trees and I could't say any critic about the view or about traffic, in such a cold weather I didn't want to sit down onto a rock or onto the FÖLD. When I stopped I usually made a photo or a videofilm, and after finishing I went on cycling. Because of the cold, 2-3 kms before the summit I had to put on my warm suiter onto my legs. I arrived at the col in ca. 6 degrees Celcius, so for the decsent I had to put on almost all of my warm clothes. Although I started to climb the 38 km long ascent of the 2284m high Julierpass (1448m heightdifference) after 5 pm, but thanks to a lovely phonecall I felt me well and I felt enough power and freshness. I had fortune with the backwind, and the changing of the steepness. After 5-6 km climbing (with panniers) when I felt tired, the steepness ended and I ccould bicycle almost on a flat road. After 5 kms bicycling on flat, it started to be steep (6-7%) again. At half past 8 I was cycling in the last few - little bit rainy, or drizzling - kilometers. At last I felt me more and more keen, because I know that I would succeeded in reaching the top. The experience was increased by the rain behind me and the clouds flying in front of and between the mountains, rockwalls. I reached the col at 9 pm. Int he camping of Silvaplana I built up my tent with enjoying the shine of a LÁMPA.
Camping: Silvaplana: ….EUR / night

12th Júly. Silvaplana - St Moritz - Berninapass (2330 m) - Forcola di Livigno (2315 m) - Livigno - Passo Eira (2210 m) - Passo Foscagno (2291 m) - Bormio = 102 km + 1593 m heightdifference:
At last I woke up for a sunny day! To the camp of Bormio I had to cycle only 75-80 kms, but on this short distance there was 4 col to climb. It's true, none of them were long or hard (but the Forcola di Livigno was short but enough hard). The Berninapass-road (2330m) is a light, not too steep climb from St Moritz with beautiful views to mountains and glaciers and the famous red Bernina-train. It's ideal for hobbybikers. My second climb, the Forcola di Livigno (2315 m) was a serious one, with steep streches; it made me struggle in the headwind. On it's descent I got rain for 10 minutes, I didn't want to stop for putting on a raincoat; I hoped to go from under the clouds. From the descent of the fourth pass, the Passo di Foscagno I had a beautiful panorama to Bormio, with a rainbow towards the Passo di Gavia. That afternoon I wanted to climb that also (without any panniers, but with a small pack), but there were dark clouds in that direction, so I decided to look around in Bormio, to visit an internetcafe and write e-mail to home and not to cycle. Camping: 5kms from Bormio ….EUR / night

13th July : Bormio - Passo di Gavia (2652 m) - Ponte Legno - Passo Tonale - Fondo - Tres = 129,43 km + 2887 m heightdifference
At last I arrived at the feet of the legendary Giro col, the 2652 m high Gavia. As in 2001 I was amazed by the experiences, views, nature, fresh air on the Stelvio, this year The Gavia showed me that the Ortler National park can be one of the best region of the Alps.I was happy because of the fresh pine scent, a very few cars, then the young sheeps in the grass, asking their mam for food.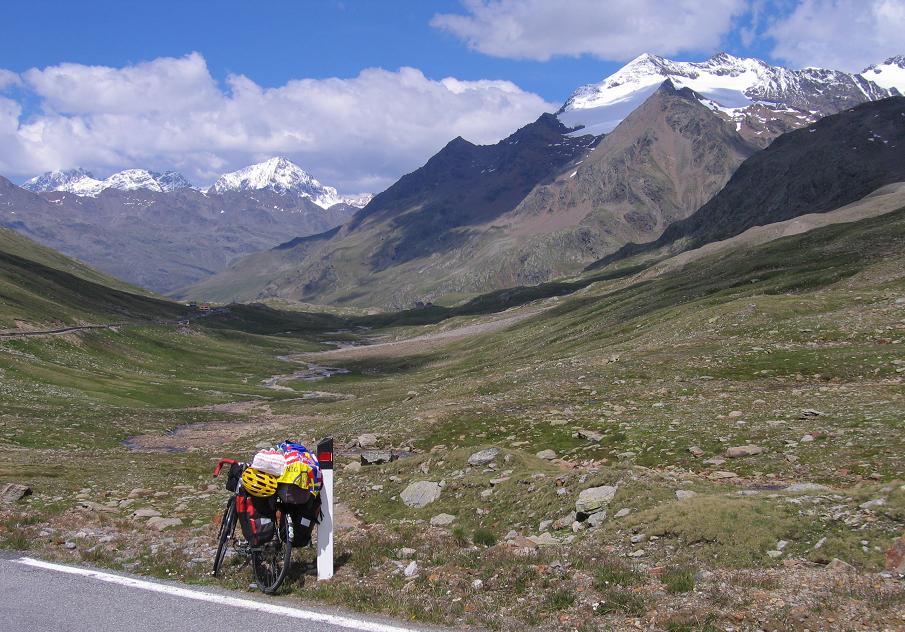 Above 2000 m there were no trees, but I could see glaciers and fresh snow in more and more directions, on several mountains. There were 12-14% steep sections, but they were only 200 m long. As I had read, the touristhouse on the top was full with gifts, photos about the passroad, and the memories of the Giro d'Italia. With my thin brake-shoes I had to be careful on the 10-12% steep descent. The road was not only narrow, but - because the little traffic - there weren't any barrier along the road. An interesting thing was a unlighted, but straight tunnel, where I could see the lightspot at the end, but it would be very risky to let fasten the bike. Without any light (I was lazy to take out) as I was rolling carefully, I felt as I were in the space; I couln't feel, where are the walls. From Ponte di Legno for a time I was following a racer with a light bike, and I arrived at the Passo di Tonale not too much behind him. On the descent I could see how beautiful are the steep mountaisn of the Brenta Dolomites, which was covered by fresh snow. 1 hour before sunset on a viaduct I crossed the Lago di San Giustine with very beautiful lights around it, then I cycled in the Non valley to Tret. Accomodation: Tret Aurora motel: 20 EUR / night without breakfast

14th July. Trat - Gampenpass (1512 m) - Merano - Bad St Leonhard - Timmelsjoch (2509 m) - Sölden = 110 km + 2753 m heightdifference:
The climb to the Gampenpass was an other ideal place for hobbybikers: light; maximum 3-4% steepness. On the descent there were views to the Dolomites, a lovely place for me. IN Merano I spent an hour with walking, looking around and enjoying the freindly town, with palm trees and flowers in the center. The weather was warm, and maybe that was the reason, that during cycling away from Merano I didn't feel me fresh enough. I was afraid that I would struggel very much during climbing up from 262 m to the 2509m high Timmelsjoch. I hoped and then experienced, that reaching the feet of the mountains towards the col and reaching the fir trees, the air would be cooler, fresher, so I would feel stronger; and I did.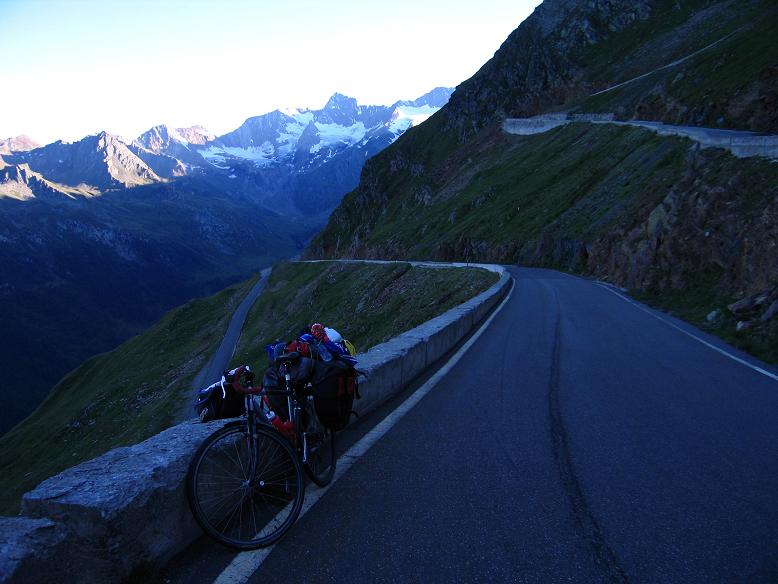 A few kilometers after Bad St Leonhard I found an ideal place to eat: in the shadow of the fir trees there was a bench on a thin waterflow. Sitting on it I had views to snowy mountains. On that place I could be sitting for hours and enjoying the nature, the tour, the fresh air, etc. After Moos the truely hard part of the climb started, I had to face with 8-9% steepness. A pair of bicyclers made 2 kms lighter for me, when they joined me for a while. IN a bend with a little bit of going faster I could overcame the guy who made the same with me before. I left him although I had 24kg wighted panniers, but he didn't have. The other was a little bit faster than me; for ? km I could go with him, but then I decided to cycle on my own rhytm. Halfway to the summit, I - haphazard - realised that on the opposite, shadowed mountain a road is zig-zagging up. "-That's the next part of my road; I will cycle there!" It turned to and back on a very steepn mountainside, where I couldn't hope for any sunshine. IT seemed that I had to cycle for 1 and a half hour long in shadow. The road was 9-10% steep there, but I really enjoyed the zig-zagging road with beautiful views. As the traffic wasn't allowed above 2000m after 8 pm, as this time passed by I didn't met any car. Only a few motorcyclers sometimes. Not too much before 9 pm, a few minutes before reaching the pass, I heard voices of cowbell and steps. They were lovely mountain-goats. On the descent - in the middle of it I had to climb 1 km - I arrived at Sölden just at the border of darkness. On the descent I realised that my brakes are very weak, so - although I had only 1 day left in my tour - next morning I had to change brakes before climbing the 10% steepn 2829m high-ending Gletscherstrasse. Camping: Sölden: 12 EUR / night

15th July : Sölden - Gletscherstrasse (2829 m) - Sölden - Oetz - Heiming - Silzer sattel (1690 m) - Heiming = 104,58 km + 2500 m heightdifference
On my last cycling day I went for a joycycling onto the Gletscherstrasse, which has the highest asphalted point (2829 m) in the Alps. Only the land was changing on the 13 km long road, the steepness and my speed, was the same: 10-11% and 6,5-7 km/h.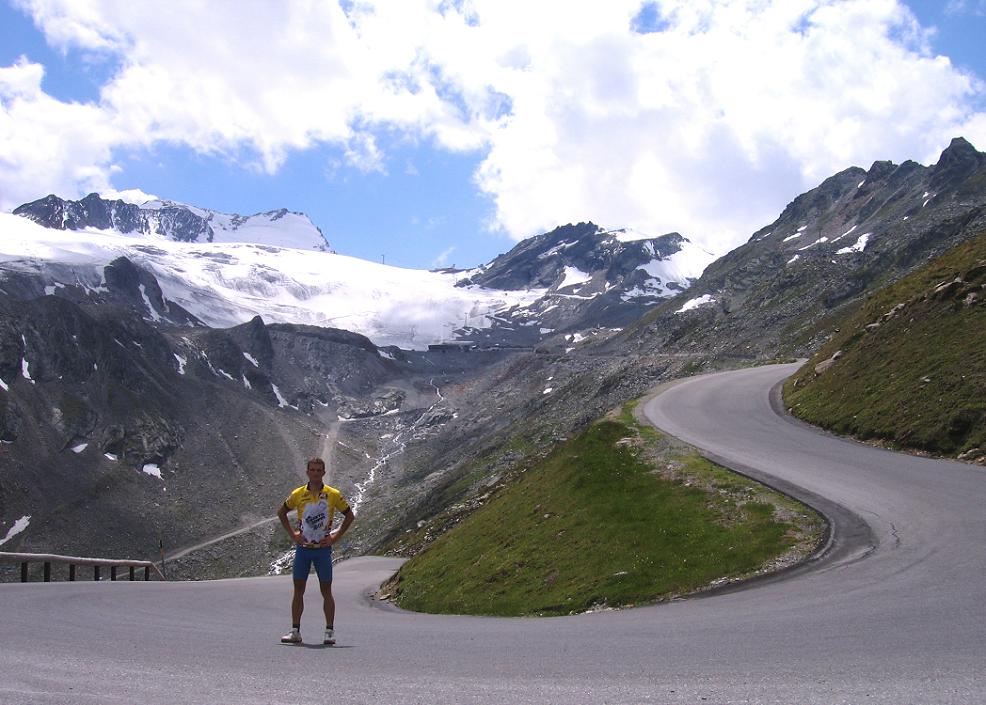 It was a oneway road (Not a col), maybe that was the reason the not too many cars and motorbikes. I could enjoy the air, the nature, the view much more, then elsewhere during the tour. After the first half, there were no more trees, so I could get nice view to the bare valley with serious Rettenbach glacier at the end of it. Next to the 2700 m situated skibuilding I wrote a message to my girlfriend into the snow. Towards the Tiefenbach galacier and the 2829m high roadtop I had to go into a very cold tunnel. After 2-300 m - in 2 short sleeved jersey - I felt it would be cold… but I didn't want to stop for 2 minutes to get out the warm clothes. Straight ahead the row of the lamps seemed to be long, and they hardly lessened. From the half I rubbed my chest, arms. After the photos, from the lower goal of the tunnel I rolled down to Sölden in a few minutes. On the straight sections I was rolling by 80-84 kms/h for 1-2 minutes.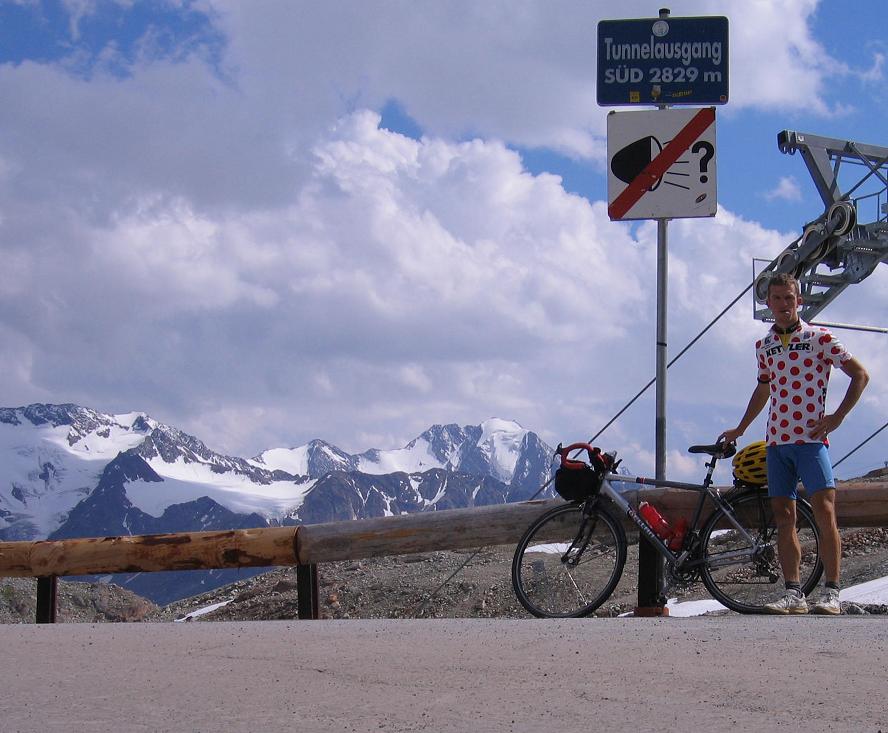 In the evening I built up my tent in the valley of the Inn, from where I had a pleasant, 2 hour long cycletour to the 1690m high Silzer pass. Not too much before sunset, I hardly stopped for photomaking, I met with cars only in every 20 minutes, so I perfectly could enjoy the calm, peaceful, 10% steep ascent, the power of my muscles, the quiet murmur of the valley, the voices of the nature. Maybe that was my greatest experience of my tour, because without beautiful views I was happy not because of the land, but cycling in the nature. What can provide it ? An almost trafficless road on meadows and in forests and a steep climb. Camping: Heiming ... EUR / night

16th July.: My last was about travelling by train in Austria and Hungary. In Wien / Viena I realised sadly that without a train in a short time leaving towardsd Budapest, I had to change trains in Sopron and in Győr until catching the train to Budapest. IN the capital the local train was under maintenance, so I cycled from the train station to home. After hearing the voices of the storm, 3kms before my house I got the rain and wind too. Although that weather I felt and showed much more happy than a few minutes before. That storm made me sit up in the saddle and jubilate tha successful tour. I'VE DONE IT! I enjoyed that I feel the rain on my arm, water flows down on my face; that was the way how my tour finished truely adventurous.
During the 17 days that I spent with bicycling I "collected" 2008 kms, and climbed 38048 m heightdifference. (Totally: start to end = 2093 km + 38418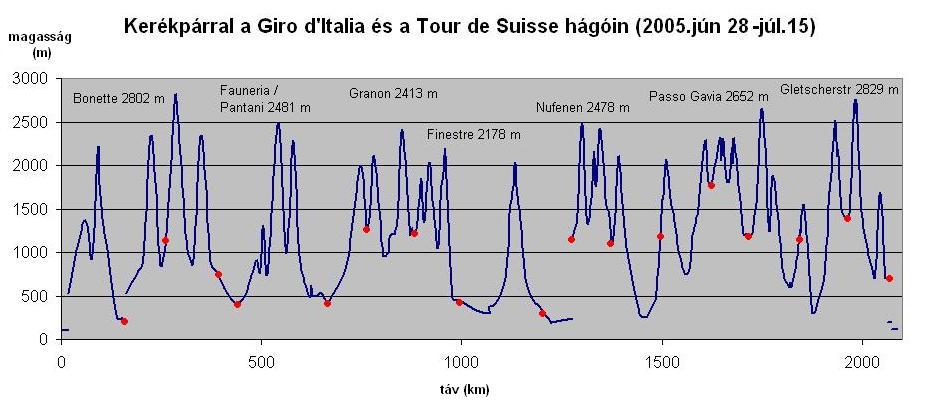 Györgyi Gábor