Linkek
GUESTBOOK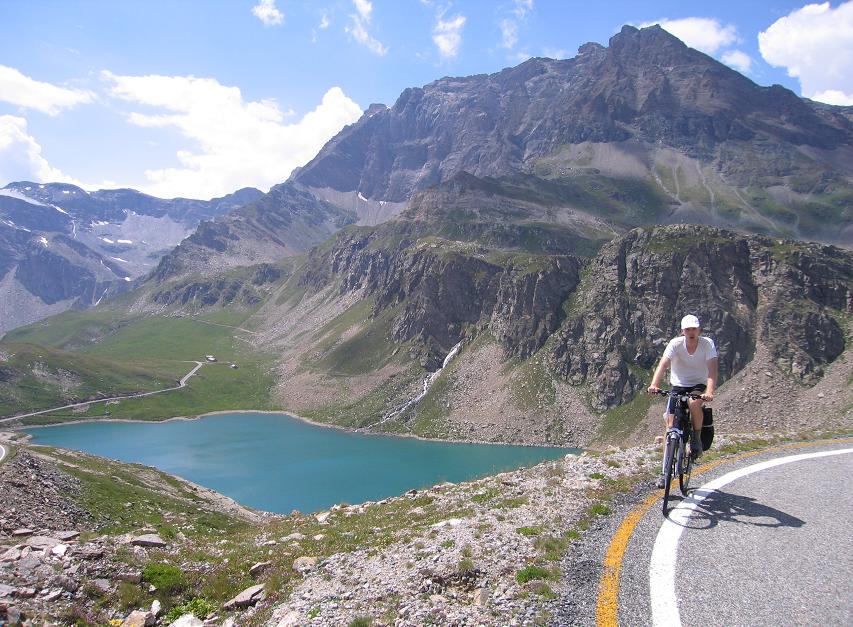 2006 Serious alpine
bicycletour: FRA, ITA, CH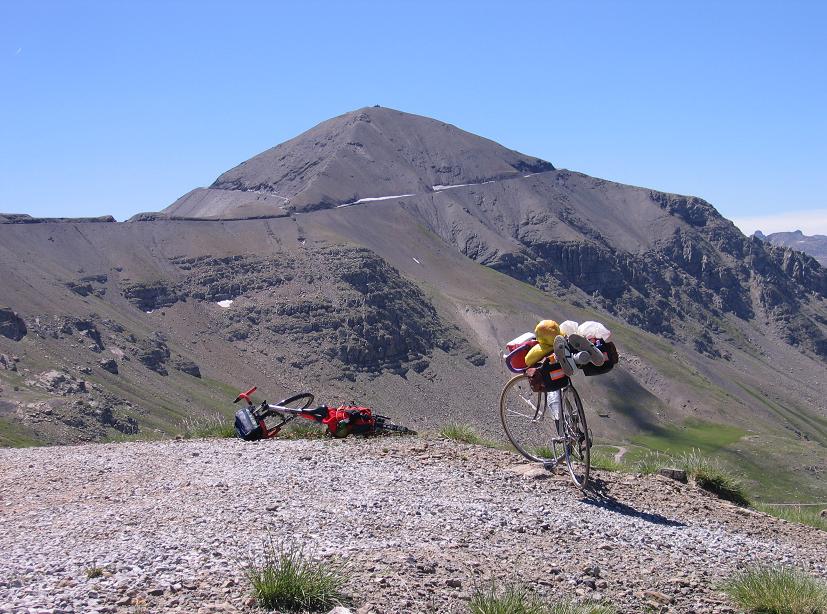 2005 Col's of the Tour and Giro d'Italia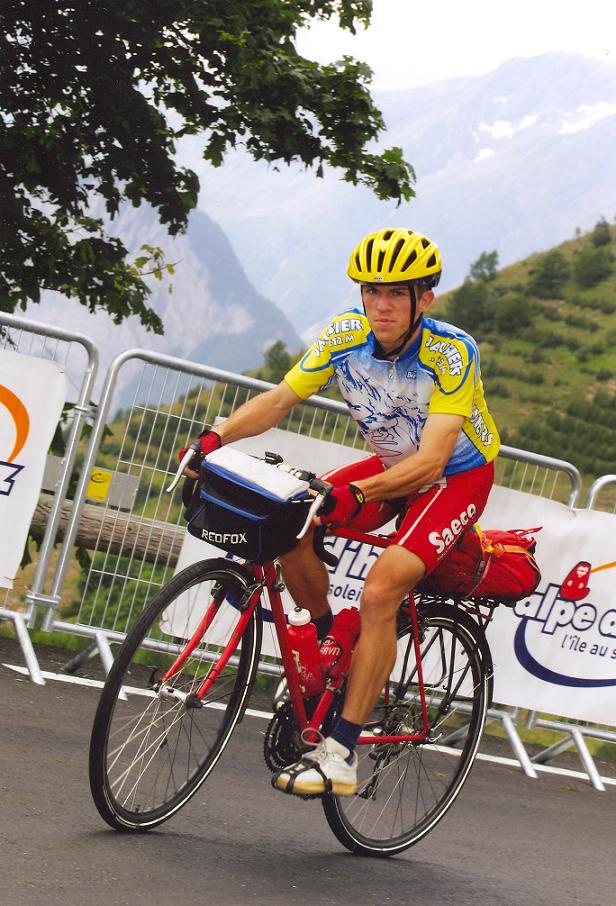 2004 Col's of Tour de France


2003 Along the Adriatic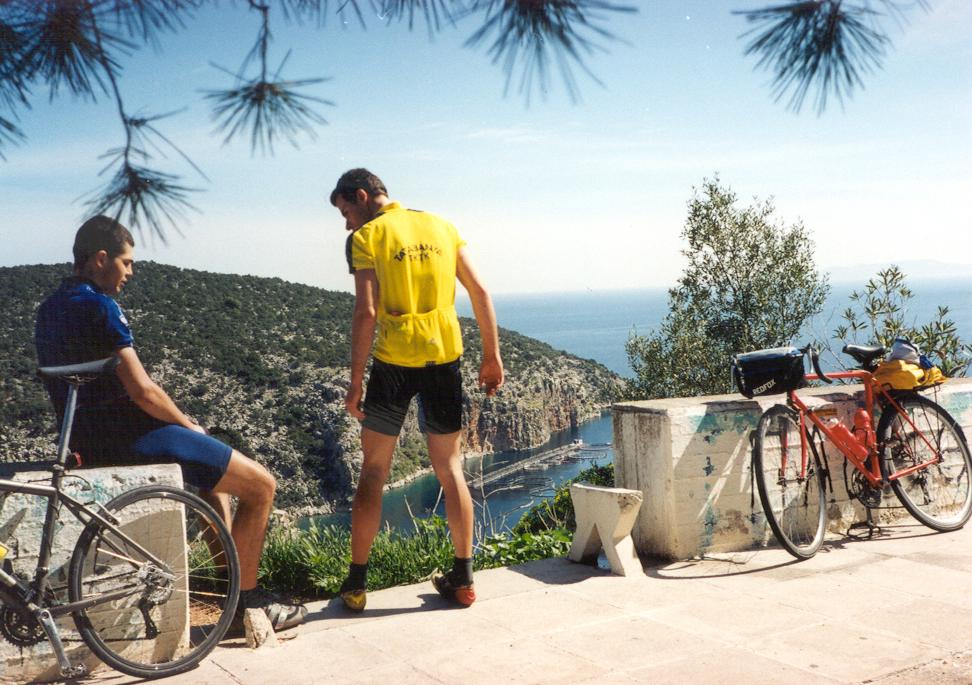 2002 Spring in Greece (Peloponessos)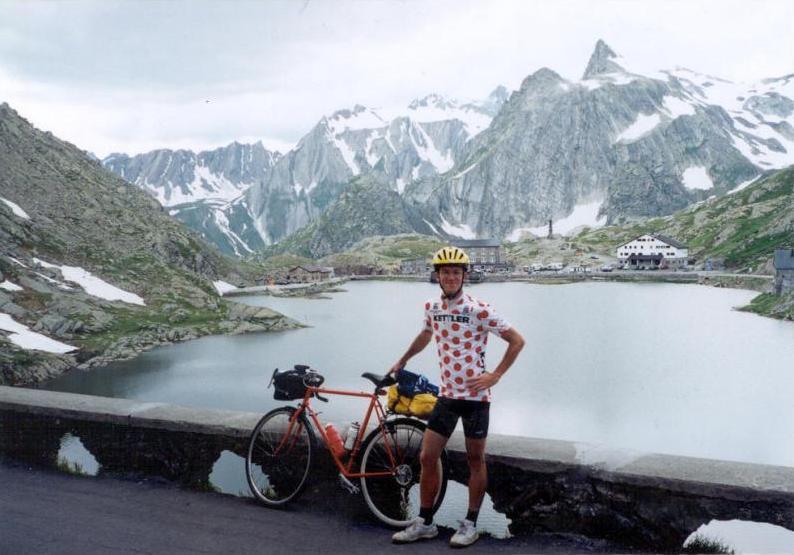 2001 Swiss Alps by bicycle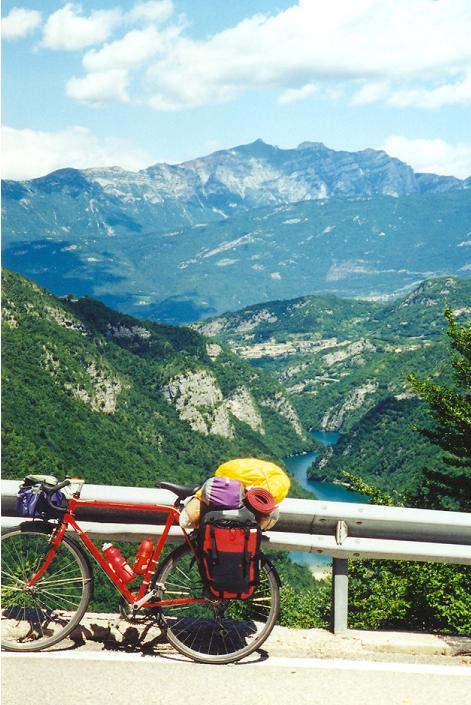 2000 From the Dolomites to Hungary by bike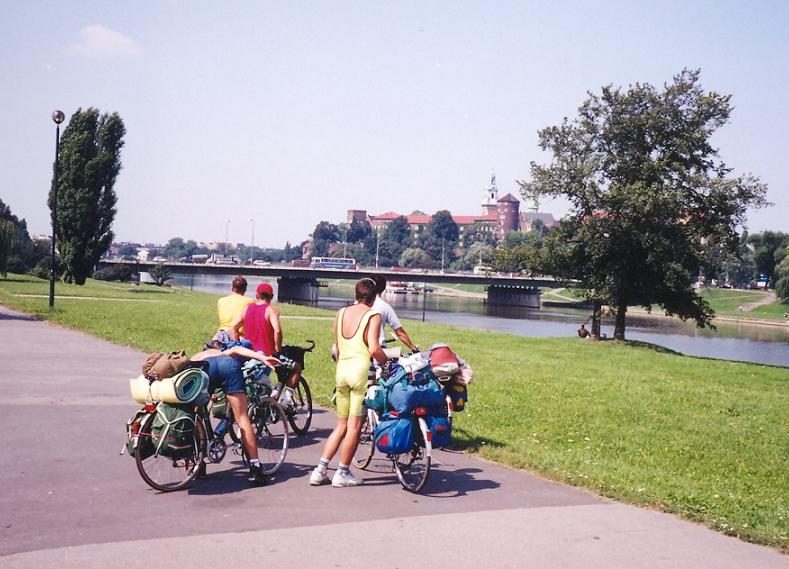 1999: Crossing the North Carpathians by bike

1998: To the High tatras and back by bicycle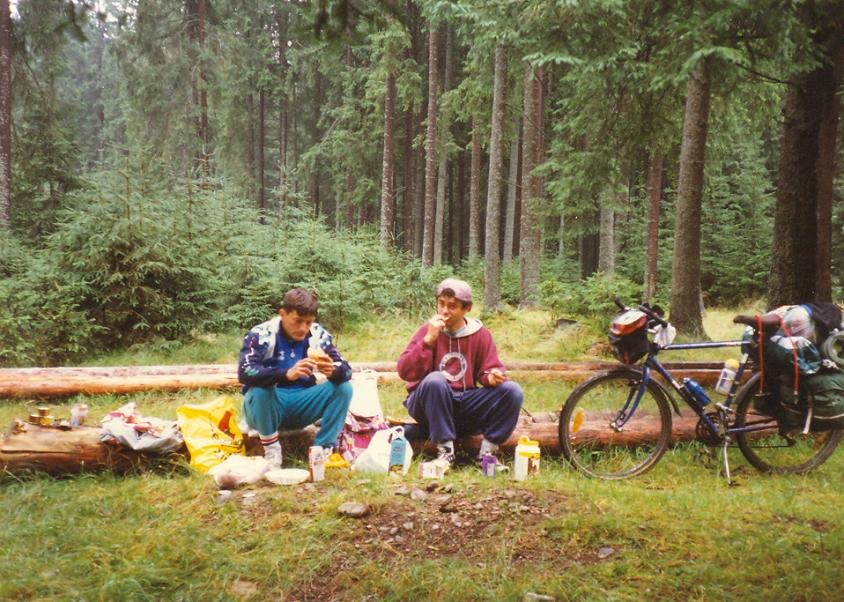 1997: "Tour de Slovaky"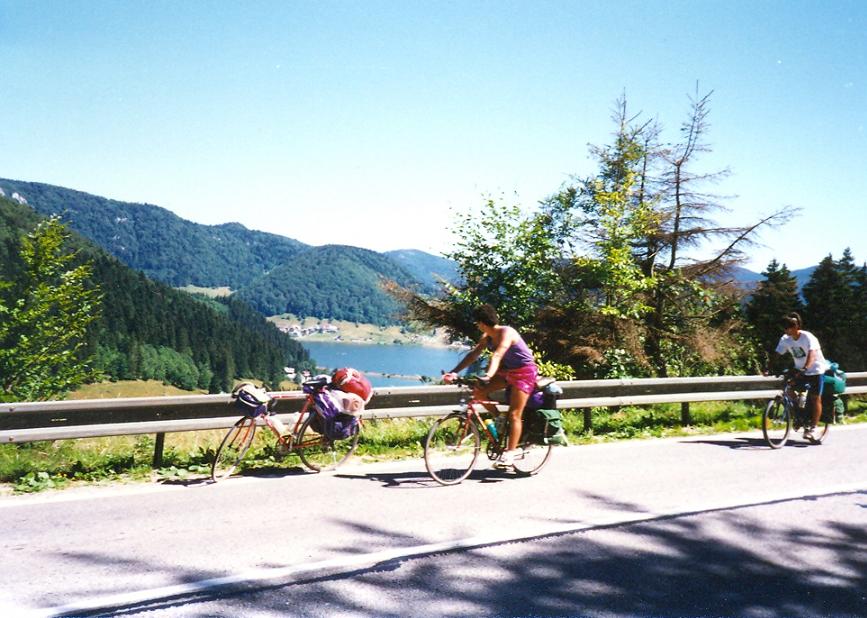 1995: "High Tatras expedition" by bicycle

1993: My 1st bicycletour to the High Tatras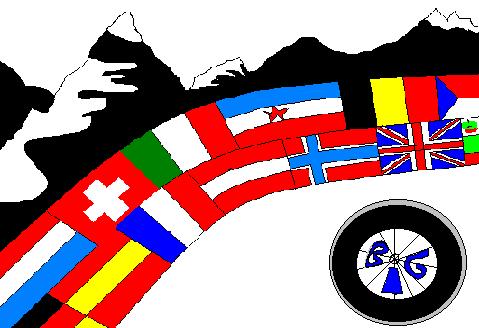 Created with Admarket's flickrSLiDR.

Prologue / Preparation:


On my 2-3 week long serious bicycletours in the Alps between 2004 - 2006 I visited most of the noticable parts of the Alps and it remained almost no known paved roads, bicycling historicaly climb which go above 2000m and I hadn't cycled. In 2007 Peter, my touring partner and me cycled the Raid Pyreneen from te Atlantic ocean to the Mediterranean sea. We visited the famous cols of the Tour de France in The Pyrenees.
There was only one wrong / error of the tour, what I planned to be the final culmination of the tour. After cycling through the Pyrenees we liked to do the challenge of the Club ds Cingles de Mont Ventoux which is cycling the 3 ascent of the Ventoux in one day. That means more than 4300 heightdifference. Unfortunately a fire on a train line caused a half day long delay, so we coudn't be in time at the feet of the famous mountain, but we had an exact day for our flight back to Budapest.
After it I couldn't forget it and it remained in my mind: I should be go back in 2008 and be the 1st hungarian member of the Club.


In 2008 spring on the web I found an another challenge: Trittico Mortirolo, which is similar to the Ventoux: to climb the Passo Mortirolo 3 times on the 3 routes. After doing it, the attendant can order a jersey too with the name and drawing on it: Trittico Mortirolo.

In organised my tour in 2008 mainly around these two challenge, but I planned another nice and hard, motivating climbs, like Cime de la Bonette (2802 m) from sealevel or climbing Colle Agnello from the italian side, which means 10% steepness for 9,6 km.
While I had good experience with the flight to Nice, I thought I would start with it: it's better to cycle towards home, than the opposite. With it I don't have to feel steress about the flight, and catching the flight backwards.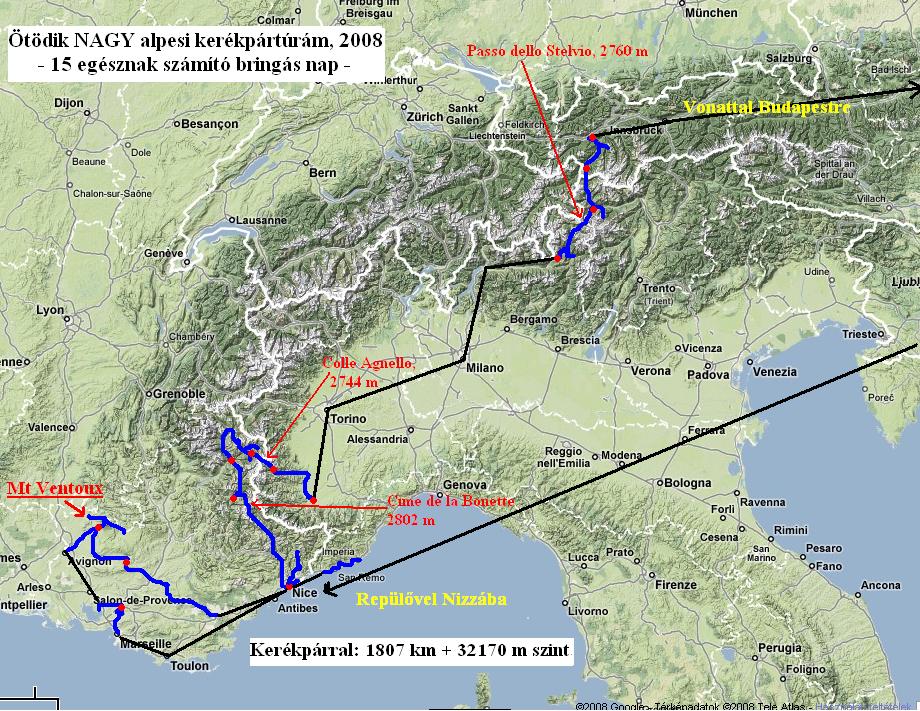 After Mont Ventoux I planned 2 local tour from Nice: the first the not too known climb, L'Authion (Trois communes) and the other the Col Salese (2031 m), which - I got information) is not paved to the top. 2 days after it I planned to climb one of my favourite, the Bonette. I did that climb more exciting with that I started it from Nice, sealevel. I knew that with it this climb would have more heightdifference than Pico Veleta (2700 m heightdiff.). I organised this day to be 1 day after that the peloton of the Tour de France climbs it.
The Trittico Mortirolo was planned to be in the last week of the tour and was planned to cycle with a nice, pleasant italian guy, Mauro Repetti (BIG member also), who joined me and helped me in translating from italian and in giving more infos. I thought the challenge would be much easier and gives more pleasure, would be able to make superb photos, video about each other, if we cycle together.
The last serious challenge (with my heavy panniers) was planned to be the Passo dello Stelvio; in the last few days I planned climbs above 2000m in Tirol.

The last weekend was exciting, but thanks to God, and my sister and her husband, we succeeded in reserving places in campings in France. When at starting the phone calls my rother-in-law told his name and where from he calls I "heard" the smile at the other end of the phoneline. I think it's rare. He could reserve pace at Aix en Provance and at the French Riviera at 2 camping it was told that there will be free place.
Because carrying the bike on the airplane at the weekend I tried how to take the pedals off, how to turn the handle-bar and I fixed the shelter of the shift(er).
When I said good bye to my sister and her family, I told them : I feel - almost regularly - stress before the start of the tour; I couldn't wait starting at last and be after the flight and at last : cycling.

The pressure of the time, the lot of things to arrange, the cheching in in time, packing the bike well enough, etc. At first I will feel worry to find the right place at the airport, than to finish the packing in time, to hand up the bike in time… than a little bit of axciting because of the flight… and at last I will feel peace, when got the bike and will finish preparing it for cycling.
Totally my panniers, rucksack was 24 kgs. With the bike and flasks ca. 38 kgs.

I started my tour on 16th of July, in the afternoon, as I finished my work. I took the packs onto my "faithful" bicycle, and than travelled by local train and normal train to Austria, where I cycled ca. 25 kms to Enzersdorf, where I had a reserved room for the night. There was not too much traffic on the road, but sometimes I cycled on bicyclepath.

17th July, Thursday: Air flight to Nice, then by train to Marseille, and by bicycle to Aix en Provance = 65 km + 350 m heightdiff.
As I was bicycling by pleasant morning temperatures towards the airport of Wien / Schwechat I was very excited and I felt me very well. I got the necessary informations from the Skyeurope desk and found the place of check in very much in time. I prepared my bike to the flight easily and I arrived to the check in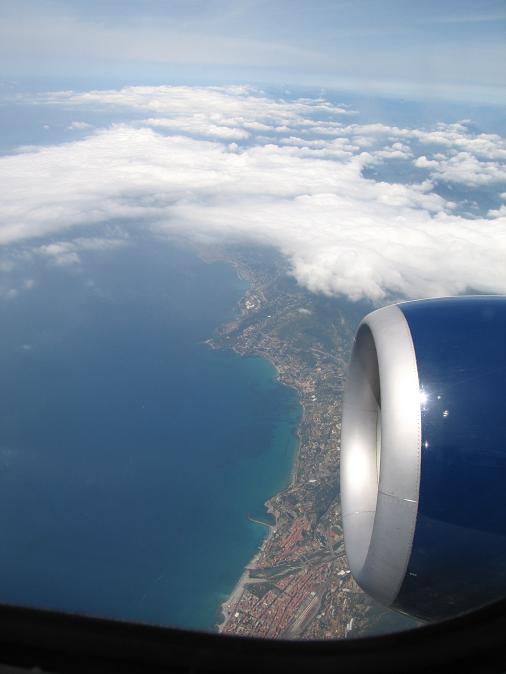 so early, that choosing a short row I had to wait only 2 minutes. First I had a little bit problem by my bicycle (the girl told me that I should take it into a bag, but I got written info from Skyeurope and by phone too, that it's enough to pack it as I want (carton paper and thick clingfilm )), but I could arrange it. At last she told me: she gives me the necessary mould, but where I will take it in (where the special baggages are taken in) there I need to let the bike in.
After everything was Ok, I had ca. 30-40 minutes left for looking around. As the bus carried the passangers to the airplane it started to rain. The flight was fantastic: this year I had no fear, but I enjoyed it very much: I felt almost extasis. Nice waited for with a 27 degrees warm pleasant weather. I arrived back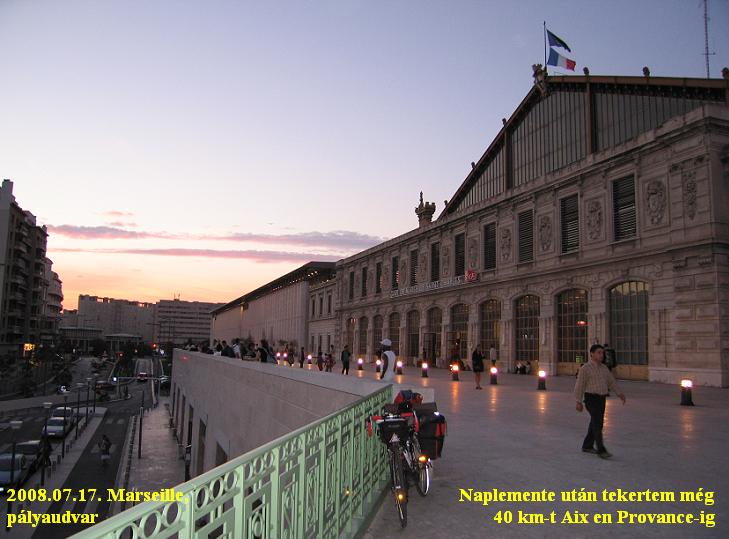 with pleasure to this nice city and to its wonderful beach. I spent ca. 1 hours at the beach by enjoying it, then went to the train station to my train to Marseille. It's delay made me angry and caused that I could start cycling from Marseille only at half past 10. Because of the too many roads after a half hou delay I arrived at the camping of Aix en Provance at midnight.

18th July, Friday: Aix en Provance - Rognac - TRAIN - Avignon - Bedoin - Mazan = 95 km + 520 m heightdiff.
I slept enough (I couldn't do this with my tourmate a year ago after our 1st day), but so I didn't have time for breakfast: I had to hurry to catch the train 40kms from the camping.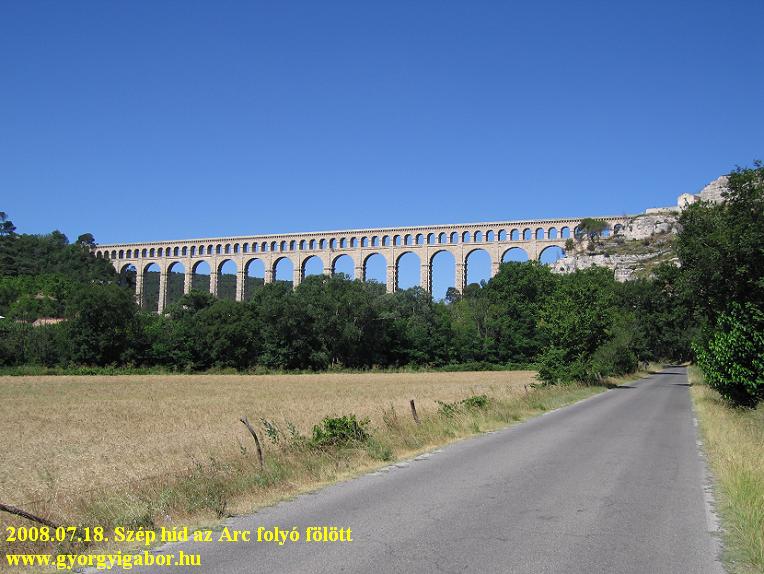 I had to push the pedals with empty stomach. The serious headwind gave me more motivation and made me cycle more stronger. I had to fight for catching the right train. At last I arrived more than half hour before the train, so I had enough time to buy and eat some food. After travelling to Avignon by a bicycle carrying train I cycled towards the Mont Ventoux in strong headwind. I felt happyness as I saw the huge mountain at first in my life. "-I've just arrived to "You". I will visit "You" tomorrow!" I planned the whole next day for cycling up and down Mt Ventoux on its three asecents, so I had to go to the bicycleshop at Bedoin on that day to buy some surprise and jersey about the Ventoux. I went on cycling, hurrying against the wind.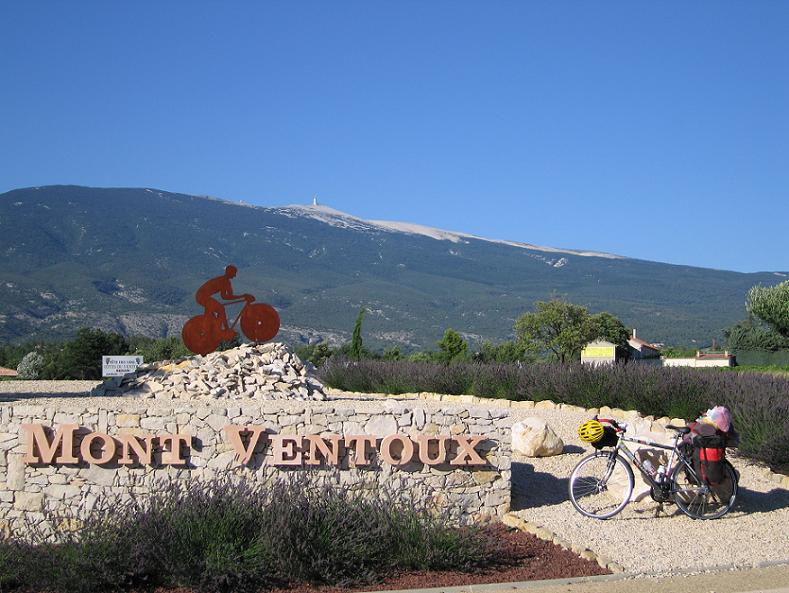 At last I had to get known that the shop is open to 8 pm. After buying memory-gifts and a Ventoux jersey I rolled down to the camping of Mazan, where the owner greeted me very friendly. Next to my tent a belgian pair had a caravan; they were also very friendly and invited me for a drink and we have spoken a little bit: about my tour and the legend, history of Ventoux.
Because of the strong wind I was afraid of the next day and I thought that if it remains, after the 1st climb I can take the attempt for the next day. At the end my sister gave me calmness by her sms: You will have sunny weather with a light breeze.

19th July 208, Saturday: Cycling up to Mt Ventoux from each of the threee direction in 1 day = 165 km + 4615 m heightdiff.
I had this day, as I wanted to be, or it was better… as I would have dreamed. I had a delay with the early starting, because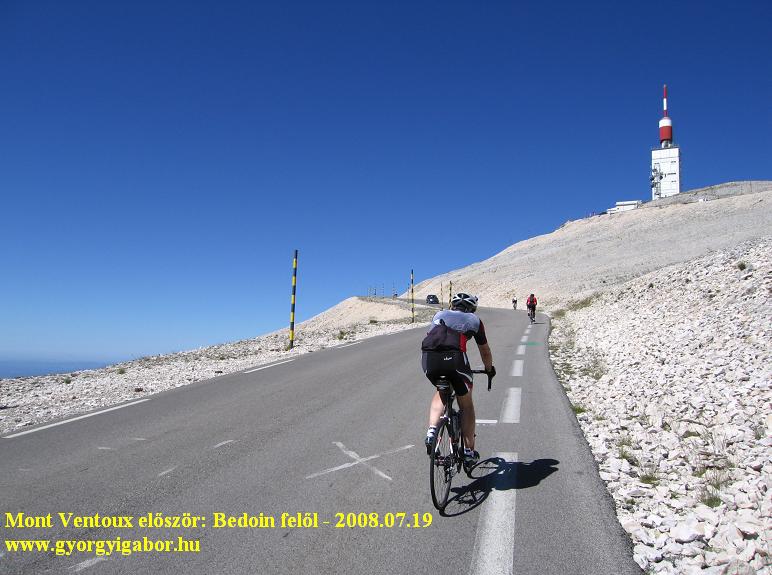 I had problems with the pulse measurer, but from Bedoin everything was Ok - fortunately, just from the right place. I started climbing the most famous and hardest climb of Mt Ventoux with wonderful lights, morning sunshine. It was fantastic coming out from the forest and getting view to the bare peak and then coming nearer and nearer. At that time a lot of another cyclists were doing the same: ca. every 150-200 meter I saw people pushing the pedals. I was surprised by the number of them. It seemed that Mt Ventoux is the right Mekka of the cyclists and not Alpe d'Huez.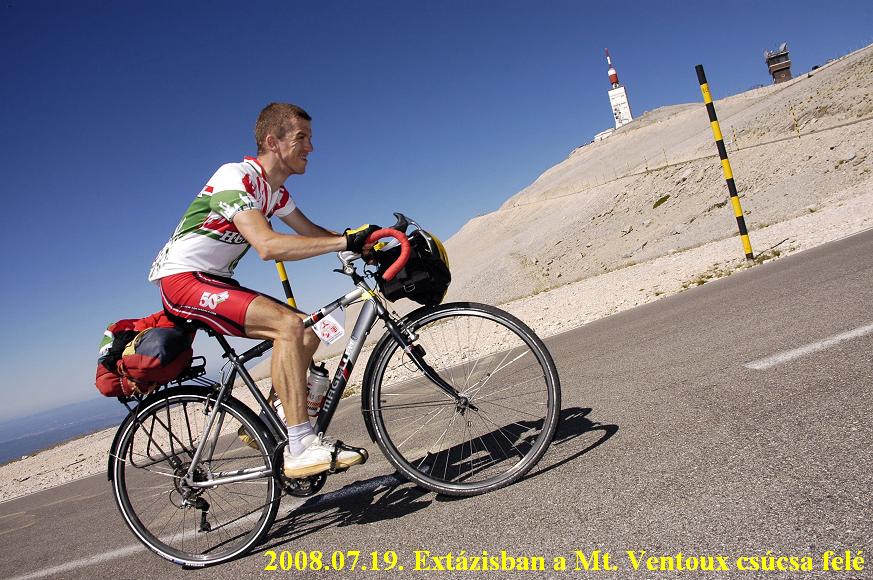 After Alpe d'Huez (2004, 2006), Col d'Izoard (2004, 2008), Galibier (2004) and Col du Tourmalet (2007), Mont Ventoux was the last of the five most famous climbs of the Tour de France that I climbed.
1km before the peak a professional photographer was taking 2-3 photos about each of the cyclists which photos could be bought via Internet. (I bought 2 of them).
From the top there was wonderful panorama from east (Alps) through south (Provance) to the west - to the plain area. In the gift shop one can buy a lot of good memory-gift, for example: T-shirts, jerseys, trouserses, cards, medals, and small things.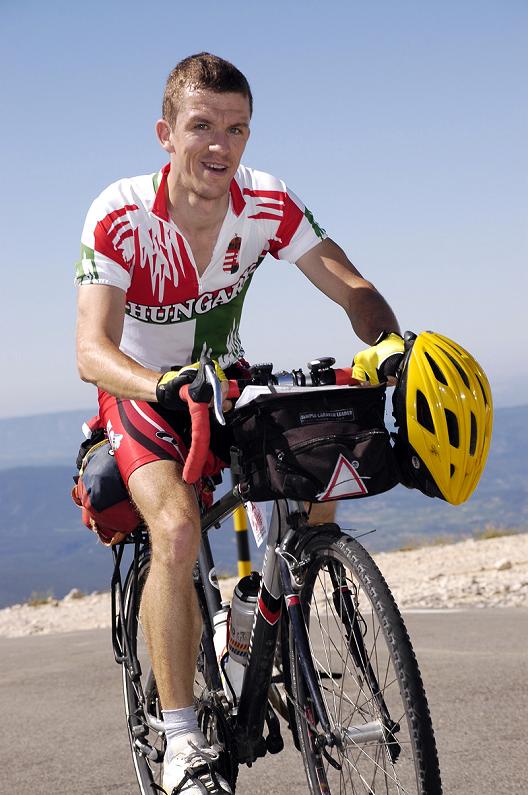 My 2nd climb - from Malaucene - was a true hot spell climb, as I read from a few cyclists and why they advised to start earlier. After a few kilometers the road was shined so much so I decided to take on a kerchief under my helmet to stand the hot. The kerchief which was hanging onto my neck protected it.
From this side of the Mont Ventoux not so many cyclysts were climbing up; I met a guy who was nearly at the end of his strength, he was hit by the hot weather. In the 2nd half of the climb I could see good views to north, to mountains. There was a light section before the junction of Mont Serein, and where I filled up my bottles. The remaining climb was 10-8% steep, where - after ca. 1 km - I could enjoy the view to the bare peak
of Mt Ventoux to where I could see the road and the hairpins. With photo and videofilm taking and thinking much time in the shop what memorygift to buy the time went by, that's why it was 5 pm when I left the top again. I didn't spared with the time, because my first aim was to enjoy the day and to make it unforgettable. Cycling towards Sault I was surprised that after turning left at Chalet Reynard the road was hardly descending, I had to push the pedals. A few kms before Sault the road went throught levander fields, it was typical in Provance, so I enjoyed and smelled it.

Because I hadn't food for supper and next breakfast it was funny that during my Mt Ventoux attempt I bought a baguette and carried it on my last climb. That's truely by bicycletourers and I enjoyed it ! I'm not the guy who has an accompanying car with some clothes or food in it, etc. I had everything I needed (ca. 3-4 kgs) by me on my bike since I started in the morning.
On the lower part of the climb I was a little bit hurrying: I had to cycle fast enough to reach the top by sunshine / light, but after Chalet Reynard - on the steeper kilometers (6 km : 7-10%) - I was pusihing the pedals with feeling be elated / excited.
The peak was shined by late sunshine lights, then ca. 2 kms before reaching the top I saw as the sun hided behind the mountain, but it seemed that the Sun went down. There was almost no traffic on the mountain: I met cars only in every 10 minutes. Not too many people was on the mountain yet, but I could see people on the top. I enjoyed that calmness when I met with a few friendly sheep. I enjoyed the evening very much, it was wonderful and unforgettable, altough I had 2kms left. As I turned in the last hairpin bend I was surprised by the last sunshine lights before sunset. It lasted just to that time when I arrived there: so I reached the parking place on the top just before sunset (at ca 9:15 pm.). As I rolled into the parking place I shouted into the air: "-I did it ! " As 1st hungarian I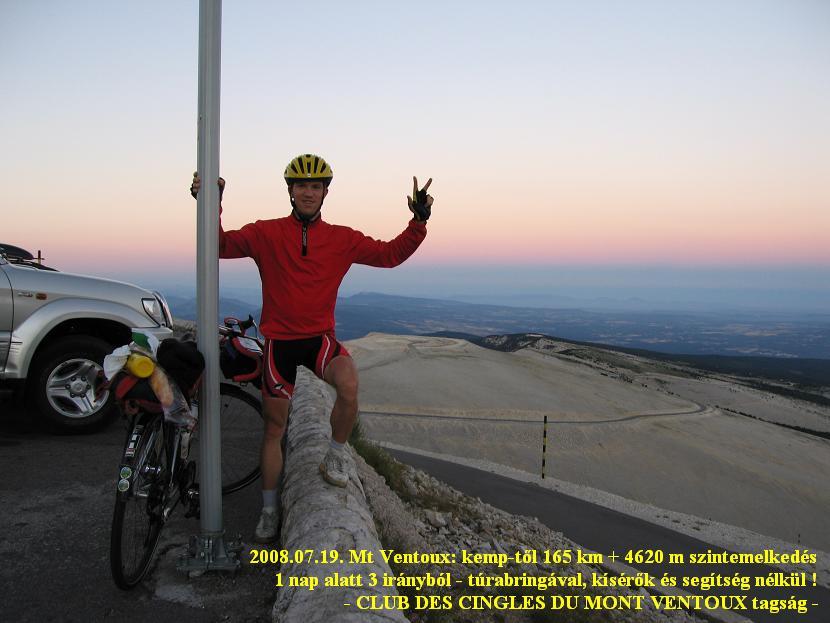 performed the conditions of being the member of the Club des Cingles du Mont Ventoux of which I was very proud. Besides I did it not by a 10kg light racebike, but a 13,5 kg touringbike + my ca. 3,5 kg weighted pack without any accompanying car, people.
As I took a few photos and videofilm about me speaking to the camera 1-2 men arrived there who asked me about the event. I told them with very much happiness what I succeeded. I felt me very-very happy. And I felt also that I wasn't at the end of my strenght, although I climbed 4615 m height up.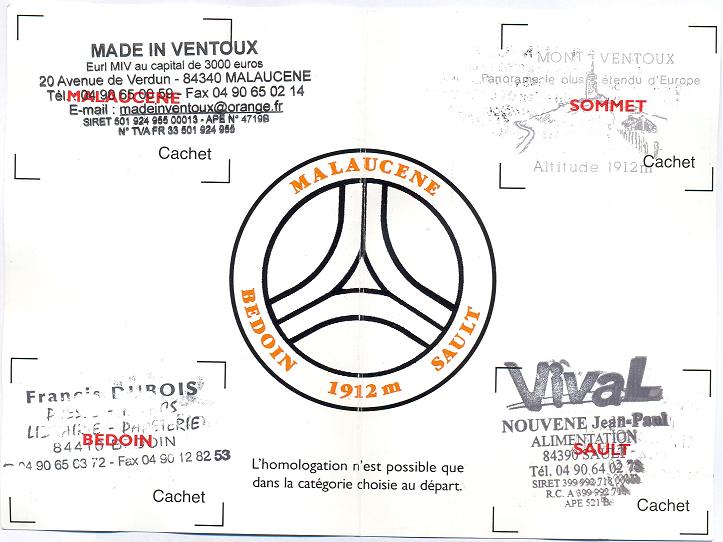 After fantastic photos I started going down at half past 9. The descent was as fast as I read from other cyclists. There are not too many bends, so - by not too much lights - I could go by 50-70 km/h. I arrived at Bedoin at 10 pm, from where I was cycling with happiness in my heart and without any hurrying. The belgian pair next to my tent asked my friendly and were very nice.

Useful links:




20th July, Sunday: Mazan - Bedoin (bicycle repair) - Pernes - l'Isle sourge - Bonnieux = 68 km + 461 m heightdiff.
Because of my clumsiness at the airport of Vienna, the fixing of the handle-bars became too loose so I had to repair it, but I couldn't. I had fortune with the bicycle repair at Bedoin, while it was open on Sunday too, so I first cycled there with my packed bicycle. In Bedoin I fortunatelly bumped into Etienne Mayeur the man who climbed the most BIG by the cycloclimbers of the international B.I.G "organisation".
The bicycle repairer tried to repair it in a short time, but he couldn't do it, so he needed to leave my bike there for the day.

I wasn't surprised with this, in the morning I counted with that I had to have a day for it.
I spent the day with walking in Bedoin, with writing my notes, having rest, looking around in Bedoin. When I arrived back to the shop my bike was OK and I felt me happy. I was motivated to cycle as much as I can to remain less kilometers for the next day when (until evening) I had to cycle to Les Arcs and after travelling to arrive to Nice. In the following 2 hours I cycled on flat roads along the small mountains of Provance and had a little bit rain, than I was riding my bicycle between or behind 2 rainclouds until I had to turn south to Bonnieux, a nice old, romantic village on the mountains at ca. 360 m height.

21th July, 2008, Monday: Bonnieux - Pertuis - Rians - Tavernes - Cotignac - Lorgues - Les Arcs - TRAIN - St Laurent du Var= 153 km + 1045 m heightdiff.
After the preceiding humid and often rainy (short rains) day I woke up for a sunny and more and more windy day. From the camping I climbed up to the friandly Bonnieux, where I cycled under the serious walls of the castle up to the higher part of the village from where I - surprisingly - got a fantastic view to the Mont Ventoux. I hadn't thought that I would see it again. I said good bye to it: "Thanks for that memorable day!"

Originally I had to count with a hard and long day (140kms of cycling until 6 pm), but the wind that came with the weather front from west made my day much lighter with its support. In the backwind I was cycling with pleasure and without hard effort to Pertuis, then after crossing the Durance river I was riding my bicycle 7kms on the same road than in 2007. That was a nostalgy between the rows of planetrees. It was easy pushing the pedals by 30 km/h speed. Between hills on lightly ascending roads I could keep my pace at 22-25 km/h. I enjoyed very much how I left the kms behind me. I didn't have to cycle hard, I had enough time for having rest; it was a peaceful day - thanks for the backwind.

Cotignac was a memorable little town: it was truely (out-and-out) a town of Provance with a mood, feeling, platetrees, caffees and houses which are tipical in Provance. Along a small river I was watching my odometer to hold my speed at 30 km/h for 30 minutes for my fun. I enjoyed the wind. I arrived at the train station of Les Arcs 30 minutes before the start of my train. Unfortunatelly the sky was a little bit cloudy along the sea. Thanks to my brother-in-law I had 3-4 opportunities to sleep in a camp. I tried to find the 1st in St Laurent du Var, where I just left the table "End of St Laurent du Var" towards the mountains and my patience was less and less, when I caught the sight of the camp.

22th July, 2008, Tuesday: St Laurent du Var - Nizza - Col de Braus (1002 m) - Col de Turini - L'Authion (ruin: 2040 m) - Nizza - St Laurent du Var = 158 km + 2504 m heightdifference.
As I planned I spent 3 nights at St Laurent du Var, a few kilometers from Nizza. I cycled 2 local tours, of course onto mountains. Originally there was 2 targets of my 1st tour, but after the previous day and after enjoying the fantastic morning mood and life at the beach of Nizza / Nice I decided to shorten the tour and not to climb the 2031 m high Col de Salese which is not totally paved. (info here: link )
After this I wanted to visit Col de Braus, Turini and L'Authion about which I was sure it goes up to 2000m. I had my breakfast from my pocket at the beach of Nice, during it I enjoyed looking around, the people walking, running, etc. and feeling the sunshine. It's better not to hurry but enjoy where I cycle.
After leaving Nice the mountains were similar to the mountains on the Balkan, in Croatia, or Montenegro, where I had already cycled. They were dry and the plants were also not so wet. The sun was shining very much and the cicadas were givings its voice very loudly. The second half of the ascent to Col de Braus link of the col (1002 m) had a lot of serpentine-bends which I enjoyed very much with the clear panorama onto it. Although there was not too much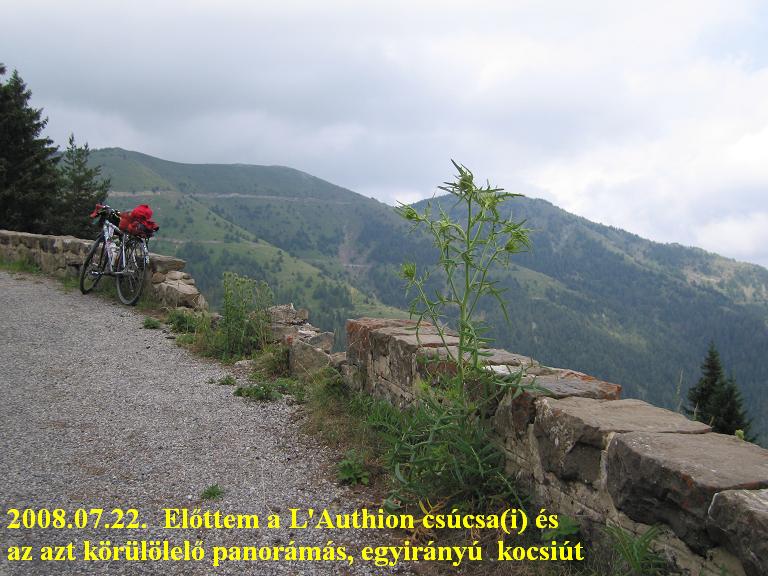 view at the top, but a ruin and the monument of René Vietto (about René ) who was the local hero of the Tour de France 1934 with his climbing skills and with the fact that he had to give his bike to his team-mate on mountain stages where he had lead over the others.
From the Col de Braus I cycled on calm and peaceful, almost forestry road to the road of Col de Turini, where to I cycled an ascent which had a lot of hairpin bends on a panoramic mountain-side. That was wonderful; from the top maybe I could see the sea far away. Although the day was hot along the beach, after cycling
above ca. 1400m the air became much colder. From the Col de Turini I cycled on a calm road towards L'Authion roundy mountain road which goes around a few hilly, grassy and panoramic mountains and between ruins where serious fight was happened in the 2nd world war.
Before going onto the road around the mountains a sign warned that the road is only one way, so I had to start a little rolling down on the right road. A map showed that the highest point of the road is only 1989 m about which I was a little bit sad, but decided to cycle up to one of the ruins which is above 2000m. I choose
Mille Fourches with its height of 2042m. The top of the hills were just in fog, but looking far almost every direction the weather was good and clear. The clouds were just at L'Authion. The weather was interesting!
To the beach I had roll down for more than 1 hour; then by evening mood I cycled back to the camping on the beach of Nice. I enjoyed very much looking the airplanes taking up to the air.

23th, July, 2008, Wednesday: St Laurent du Var - Nizza - TRAIN - Ventimiglia - San remo - Poggio - Cipressa - Imperia - TRAIN - Villafranche - Nizza - St Laurent du Var = 105,52 km + 975 m heightdiff.
After waking up a little bit later and paying for the camping and washing a few clothes of me I travelled from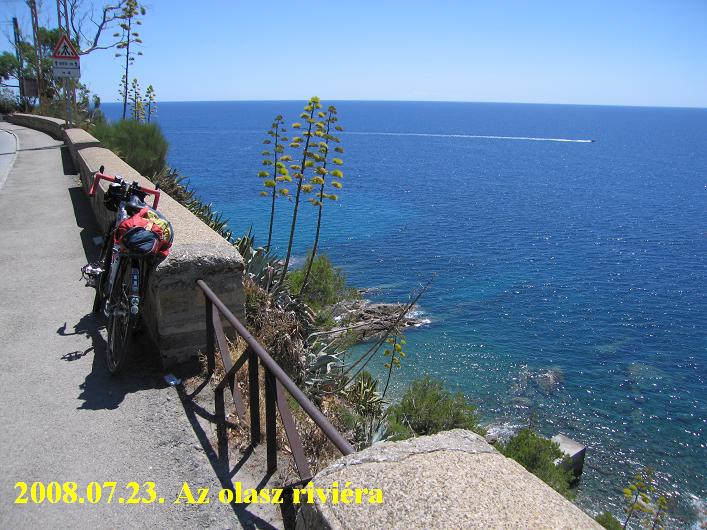 Nice to the italian border, Ventimiglia where I just missed the train to San Remo. I didn't know if I could buy this ticket in Nice. After the train went away, it was better to cycle and not to wait 1-2 hours for the next one. The traffic was too busy only in the first 5-6 kms, after it everything was OK. Just before San Remo I choose a small road climbing on the mountainside to find nice views to the sea and row of mountains. I climbed to the level where the highway was built, than turned back down. The view to San Remo and the endless sea was wonderful. In San Remo I was surprised by the fantastic building, the Villa Nobel.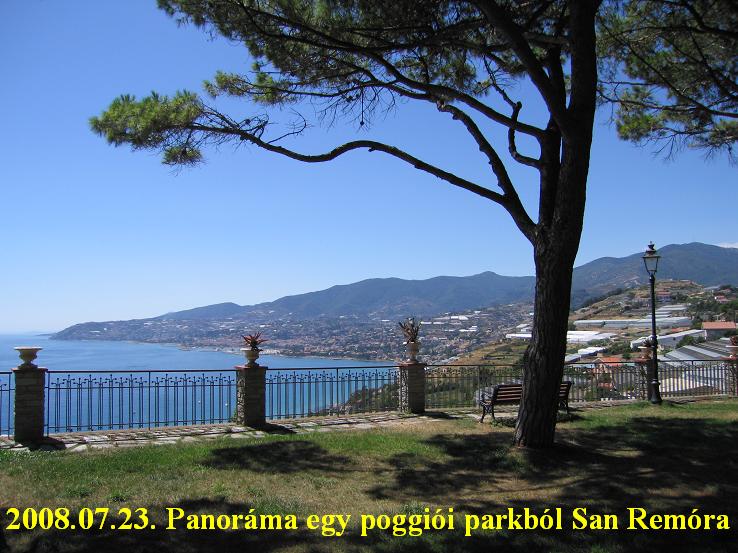 Not much after it I had to turn left to climb up to Poggio, the famous ascent of the Milan - San Remo world cup bicycle road race and a BIG climb: (click: link of POggio climb ) . The race climbs it from the another side. It is not too hard, only 5-7% steep and the top is ca. 160m high. Both sides of this climb are true panoramaroad.
After nice road along the sea the next climb to Cipressa (link of Cipressa climb ) was truely hard: 8-10% steepness for 2,5-3kms: it is harder from this direction than the other. Sometimes I felt my knees not to enjoy this climb and was afraid of the next day for when I wanted to climb Cime de la Bonette (2802 m) from Nice (2802 m heightdiff.!). Because I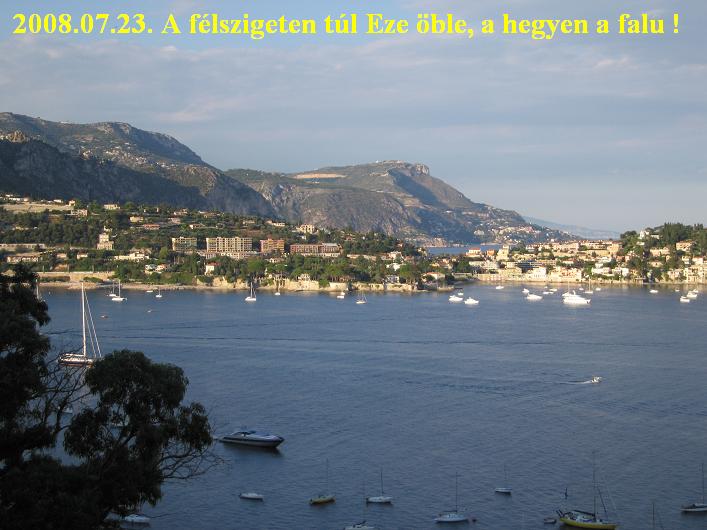 preferred to enjoy this day too and not to hurry too much I decided not to hurry to Capo Berta (another BIG climb), but catch a train and arrive back at Nice in time and climb there a little bit.
After travelling to Villafranche (a nice and lovely village by the sea) by train I couldn't find the ascent to Col d'Eze, but got wonderful view towards Monaco. After cycling partly arond that peninsula I got fantastic view to the bay of Nice with the airport at the end of it. While I ate something for lunch I could see a lot of airplane take off. After nice photos about Nice ? and videos about the sunset I climbed a little bit to Col de Villafranche, then I cycled back to the camping on the nice bicyclepath along the beach.

24th July, 2008, Thursday: St Laurent du Var - Nizza - St Saveur de Tinee - St Etienne de Tinee - Cime de la Bonette (2802 m) - Jausiers - Barcelonette = 159 km + 3004 m heightdiff.
Another unforgettable day of this 17-18 day long tour and my life. In the morning I cycled to the beach of Nice by nice sunshine: there weren't too many people there. After the "obligatory" photos and videos, at 8 am. I turned towards the Alps.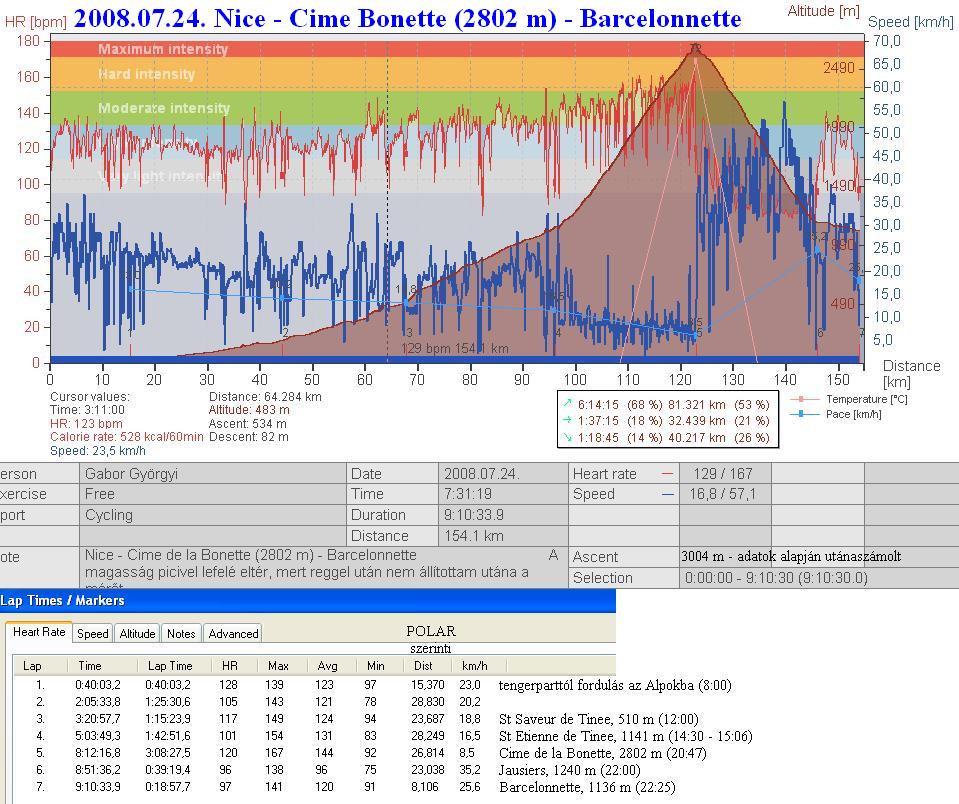 My aim was to cycle from sealevel to the highest - paved, not official col -, to the 2802m high Cime de la Bonette by a touringbike wit 24-25kg pack on it. This is the place where I could climb the most heightdifference in Europe - I though, I knew. The distance is 110kms to the top. Anyway I cycled this road in 2004, but "only" from the height of 500m.
From a cycletourer I read years ago that this road gives an opportunity to roll down from 2802m to sealevel… I changed it: why not to cycle from sealevel to 2802m - that's the effort, that's a performance, not to roll down! - I thought.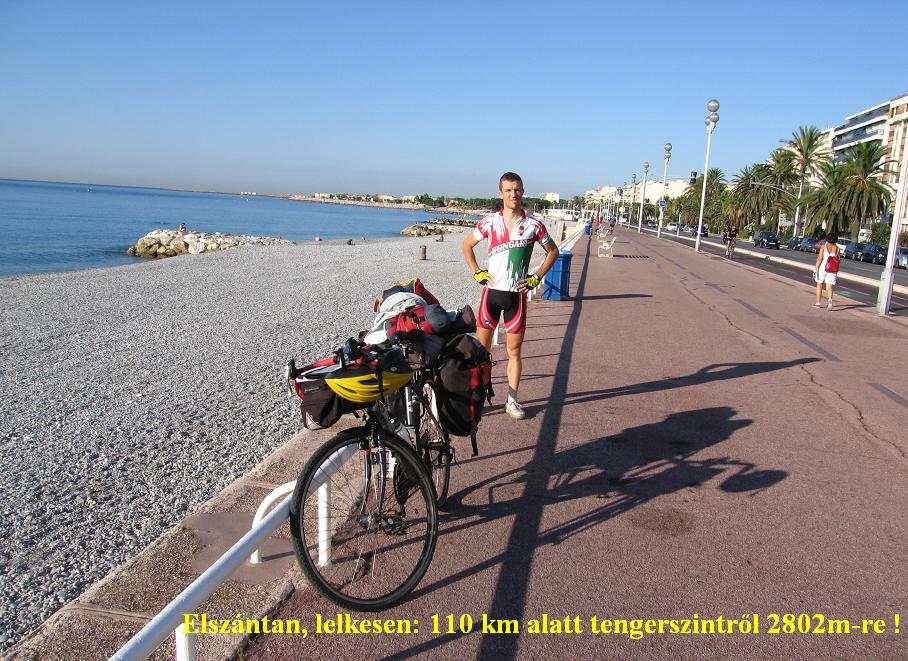 After leaving the houses of Nice the headwind was very light, but after an hour of cycling it became normal and I was thinking how my day can go on. With such a headwind the day can be very-very hard. 110km headwind and climbing up! I had to believe that it should end. I believed seriously that - as the mediterranean mountains ends and I arrive between the truely alpine mountains the wind could change …..and it happened ! It was fantastic, as after going through the thin canyon of the Tinee steam the wind started to support me and I felt backwind. Until the last 5kms of Bonette climb I could enjoy backwind.
Because my experiences cycling here up in 2004 (click . link of my tour 2004 .) I knew that I don't have to hurry, but cycle by a normal tempo taking photos and enjoying the nature, the valley, the ascent, because with my own pace I would reach the top in time.

That was a wonderful day, because I had time to enjoy climbing, although I climbed from the sea to 2802m. The traffic - as it used to be - was little. Every km a sign showed its height, the steepness of the next km and how many kms remained to the top. After the height of ca. 1700-1900 m the forest ended and I could see the top, but from there the remaining kilometers were long and long. At 2200m I had to take on some clothes, because the evening sunshine was not so warm. In the last few kilometers I surprisingly got headwind so I had to push the pedals stronger. As I remember, at a place I had to stop for a minute to have rest in the headwind. I wasn't at the end of my strength, but - after climbing more than 2500m up with touringbike and pack - in headwind it was hard!

Arriving at the Col de Restefond (2680 m) as I saw the sign I laughed: the place that it showed that is to south was: Nice - where I started that morning. I took a photo about me with pleasure. In 2004 I climbed to the top on the left side of the pyramid-shaped peak, in 2008 I choose the sunny right side. I enjoyed the last kilometer very much. During it I took a very good videofilm taking the camera onto a stone and recording me cycling up with standing out from the saddle. Most of the mountains behind me seemed to be lower than me. As I arrived to the top (parking place) I shouted into the air: "I got it!". A guy who was there asked from where I climbed and I told him proudly that in the morning I started from the sea. Unfortunatelly the climb ended, so I couldn't cycle much higher, cycle to the end of my strengh. After I took so many good photos and videofilm, as I wanted I started to roll down carefully with my packed heavy bicycle. On the road I hardly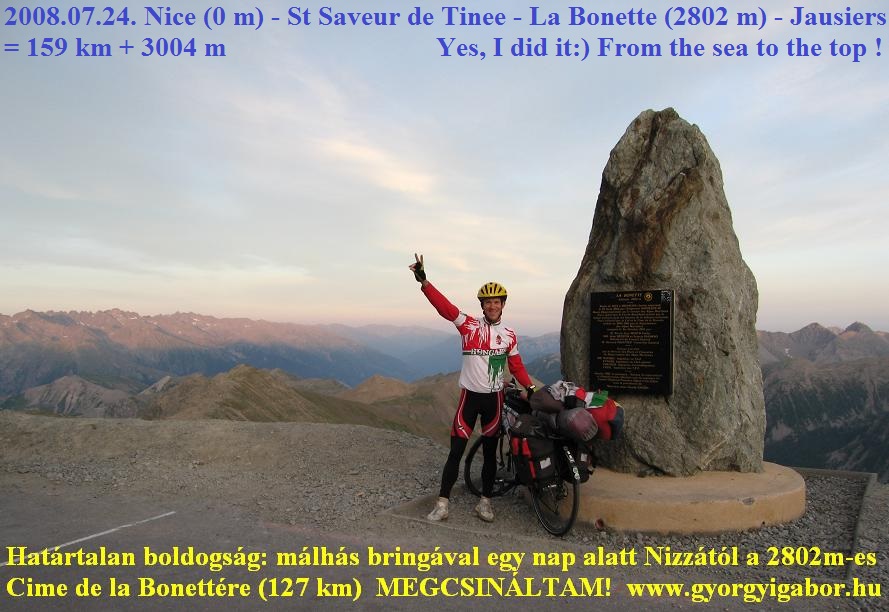 met any car so I often used the total width of the road. Arriving at Jausiers I called my sister to tell him my success, then I had to cycle 9 kms to Barcelonette, where I found the same camping where I slept in 2004. Next day I realised that at the corner where I reached the main road in Jausiers there was a camping, but the sign was in dark. I built up my tent after half past 10 and cycled 159 km and 3004m heightdifference upwards.
With the Mont Ventoux day and with this day I gave a clashing "answer" / response to that amateur hungarian cyclotourer / racer who wrote negative opinion ("We could cycle 2-300kms with eating from our backpocket and don't have to stop every one and half our to fill our mouth with sandwiches, yoghurt, apple, etc from the 10kg pack") about those bicycletourers who stops durings their tours and not only cycle without enjoying it and without looking around.
I think who cycle without any stops that is not interested in the nature and surrounding only the datas of the odometer and his puls. Otherwise the Alps is not that place where so much food is enough which can be taken into the backpockets. Without helping following cars. And last: based on my experiences I know that in the Alps its better to carry warm clothes with me, while stormy weather can arrive in 1-2 hours, as arrived on the Izoard a few days later or on the Iseran in 2004, etc.

25th July. 2008, Friday: Barcelonette - Jausiers - Cime de la Bonette (2802 m) - Jausiers - Col du Vars - Guillestre = 104 km + 2584 m heightdiff.
The previous day's climb was the third times that I cycled up to the Bonette, but none of them from north, that's why I planned to climb up from north in 2008. I can't find new alpine paved cols (maybe Mannlichen is the last one) above 2000m where I haven't cycled but I can cycle up to them from the other direction. For this year I planned a few ones.
From Barcelonette I cycled lightly to Jausiers where I went to the Office de Tourisme to ask there to leave most of my packs there. I promised to go back until 4 pm, because I had to cycle over Col du Vars to reach Guillestre in the evening.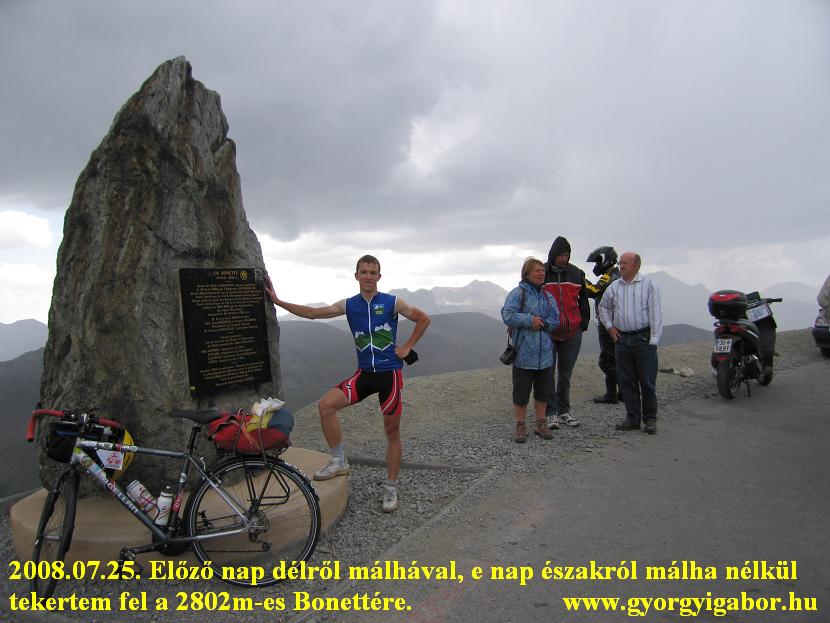 In the nice weather I didn't carried raincoat with me. The landscape was peaceful and nice that I enjoyed. The traffic is light so it is a recommendable climb for cyclists. In the lower section there were views to the Ubaye valley. At ca. 1700m a french women asked be how many cols I have, because I wore the Club des Cent cols jersey. She was also a CCC member and ca. 50 years old. That's a difference between Hungary and West Europe: in Hungary I don't think you can find more than 5-10 women above 50 who cycle on serious ascents.
At ca. 1800 m there was a small restaurant where I bought drink for the remaining climb, but I had to buy more because in the last kms I was very thirsty, because the next shop at ca. 2500m was closed. The Bonette peak can be seen only in the last 4-5 kms, where the weather became more and more cloudy. In the last 2 kms it started to rain lightly, from the top I saw eastwards a rain, another to SW, but to north the Sun was shining. I searched my long trousers in vain, which was a real surprise.
Fortunately I went out from the rain in 2-3 kms, after it I could enjoy the rolldown in nice weather. The french CCC member lady came down 5kms by a following car, after it I could wave to her when I ovarcame her who was pedalling then again.
After taking the packs onto my bike, I had to face Col du Vars. On its harder part I was afraid of rain again; the dark clouds arrived there. I "asked" the clouds not to hurry after me, and they heard my voices. Otherwise in the last 4-5 kms I hardly met any cars: only the windy, cloudy weather and me were there….. and surprisingly a ca. 14 year young cyclists. It started to rain in the last 0,5 km where I overcame the young guy who stopped to get on his raincoat, but then ovarcame me with a sprint. Because I stopped under a roof to get on warm clothes and rainclothes I had to wait 20 minutes the end of the heavy rain. After leaving Guillestre I built up my tent on dry grass in a camping.
26th July, 2008, Saturday: Guillestre - Briancon - Col d'Izoard (2361 m) - Ville-vieille - Molines en Queyras = 80 km + 2091 m heightdiff.
I was cycling to Briancon under clear sky and on the lower section of Col d'Izoard (another Col which I had climbed only from the other side before) I could enjoy beautiful weather. After leaving Briancon's last houses behind me, as 3 racebiker goes down, one of them as I saw my bike with the panniers said : "-Ollala…!"

After the lightly ascending kilometers and eating something by a parking place with a fountain the clouds came above me all of a sudden. 3-4kms before the top I waited under fir trees, then I cycled in light rain while in the last (7-9% steep) kilometer it started to rain very much, but partly there were snow or ice in it. The view was so nice that I stopped for a videofilm. At the Col d'Izoard I went under a roof of a wooden building where I found a motorbiker waiting for the end of the rain. While waiting and taking a few photos 2 other cyclists arrived up, but they had a following car in which they sat in, and enjoyed the warm in it. That's an another way on cycletouring !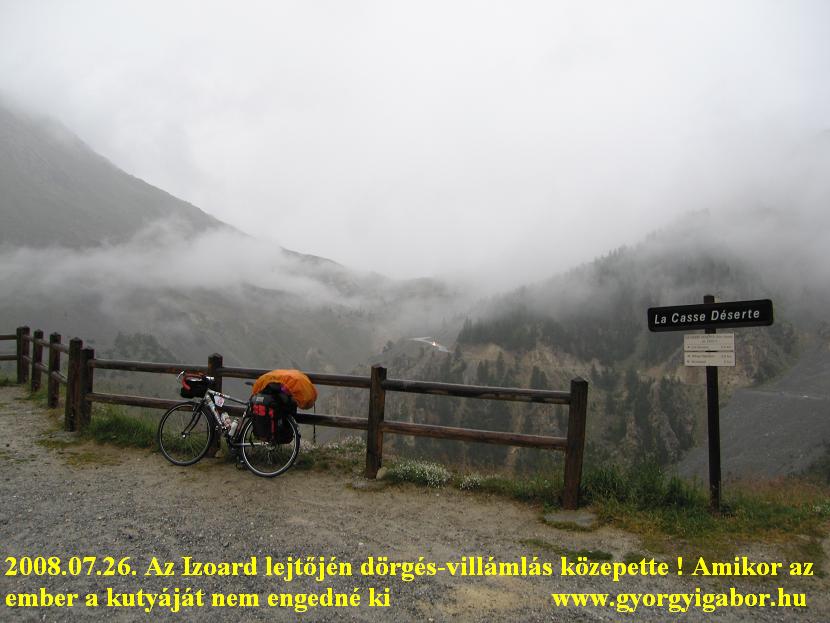 After 30-40 minutes I could hardly see the mountains to south, but I couldn't see the valley too, and the weather didn't seemed to be better in a short time, so I had to go. To the legendary Casse Desert I enjoyed very much the cloudy, rainy weather (what an adventure !), but after it on the 9-10% steep kilometers I suddenly realised that despite braking seriously my bicycle didn't slow, but my speed was: 30 - 31 - 32… km/h. The road was very watery and it was raining heavily. I had to brake with using my shoes on the pavement. After the next bend I let my bike to go above the 28 km/h speed, so I had to repeat the last braking with my shoes. By the first time I feared, but then I did it with routine.

While I was cycling on the main road in the valley large plashes showed how serious the rain was. After waiting a quarter of hour the first sunshines from between the clouds made so wonderful weather that it couldn't be told. By this weather and on steaming climb I cycled towards Col Agnel to the village of Molines where an ex-workmate of me lived. We finished the day with a pleasant chat.
27th July, 2008, Saturday: Molines en Queyras - Ville-vieille - L'Echalp - Molines - Notre Dame Clausis kápolna (2400 m) - Molines - Colle Agnello (2744 m) - Pontechianale = 80 km + 2091 m heightdifference
I woke up for wonderful weather, and had fine breakfast. For the morning I planned to cycle to a rifugio at Belvedere du Mont Viso, and unfortunately I realised too late that I had to ask the local office tourisme if the road is paved above 2000m. It wasn't. The climb from Ville-vieille was very light, at Abris there was a local festive with local producers, manufacturers.

The paved road ended at ca. 1700m, after it I was riding my bike on gravel road for 2 kms to an another parking place between fir trees, but then the road was only for MTBs, so it was better to turn back. In the afternoon I cycled to St Veran (2040 m), the highest village of Europe, which is visited by a lot of tourists and it seemed that the tourismus is serious there. I had to cycle on an unpaved road to the 2390 / 2400m high situated Notre Dame de Clausis Capel (another BIG climb: link of the climb) just between steep and nice rockwalls, mountains.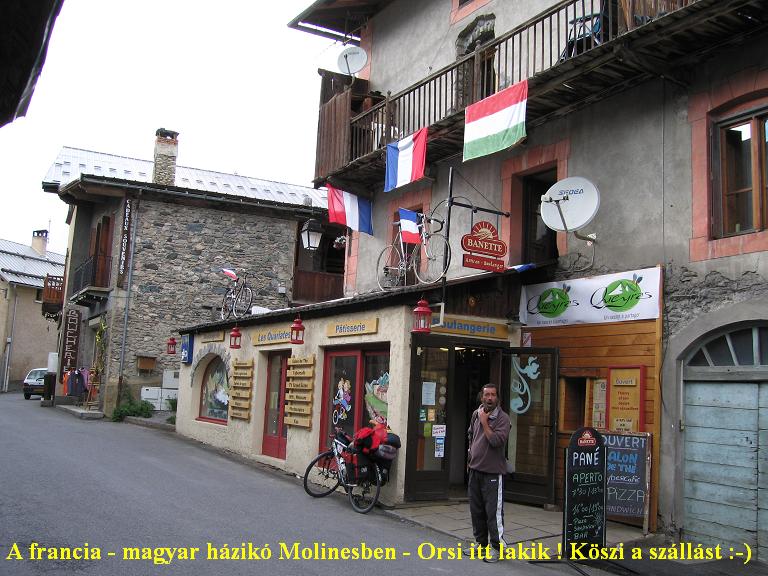 After arriving back to Molines en Queyras I had to take the packs onto my bike because I had to cycle to the Col de Agnel (2744 m) to be able to camp in Italy, on the other side of the mountain. I climbed this Col already in 2004, but then without my heavy panniers. I could hardly met too many cars, the landscape was peaceful, so at a hairpin I stood down my videcamera onto the pavement and made a film about me as I was pushing the pedals of the heavy bicycle. These films - like this - show truely what a feeling the cyclotouring give me, why I like it so much! From 2500m I could see that clouds would reach the col before sunset, and in half an hour I was cycling in flying fog. On the Col Agnel (2744 m) (BIG: link of the col ) at 9 pm the distance of vision was only 20-30 meters and of course there were no others there, just me. On the 10% steep descent I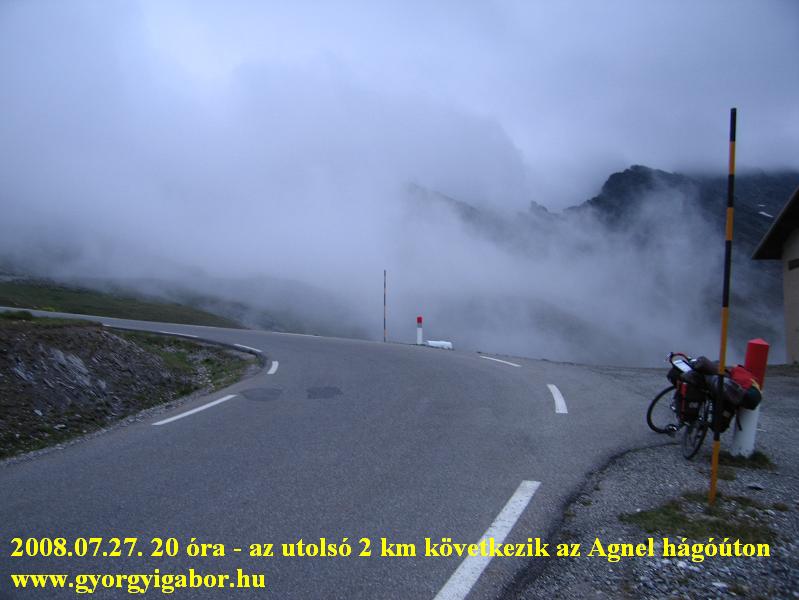 went down carefully by 35-50 km/h. The fog was over under 2300 m. Arriving at the ca. 1700m situated Pontechianale I could choose between 2-3 campings.

28th July, 2008, Monday: Pontechianale - Casteldefino - Colle Agnello (2744 m) - Casteldefino - Cuneo = 118 km + 1654 m heightdifference
Although I woke up for sunny weather, the peaks of the 2500-3000m high mountains were in clouds above ca. 2300m, maybe because of the not so hot weather… - I thought. The main "dish" for this day was the Colle Agnello from the hard italian side from where I hadn't climbed yet. I wanted to climb this from the true feet of it, so first I rolled down to Casteldelfino, from where to the hard part the road was various steep: a few kilometers 7-9% steepn, than by the lake flat, than again 8-12% steep, and at last to Chianale, that old
village with stone-built houses ca. 2-4% steep. I ate some food at CHianale which houses and buildings I liked as they were traditional, typical at such a mountanious place. Fortunatelly the road went in the less cloudy valley, so I don't have to be afraid of rain. Despite of the lot of clouds, in my valley they seemed to be drifts.
At the start of the steep part there was a sign: the next 9,45 km - to the top - is 10,6% steep! Fortunately I had to carry only 3-4 kg pack (mechanical things, pump, warm clothes because of the weather and videocamera and some food). While the wonderful road, landscape made me stop in every 1,5 - 2kms I didn't felt the climb to be a killer, but there was a 12-14% steep part - I remember - when I pushed the pedals for ca.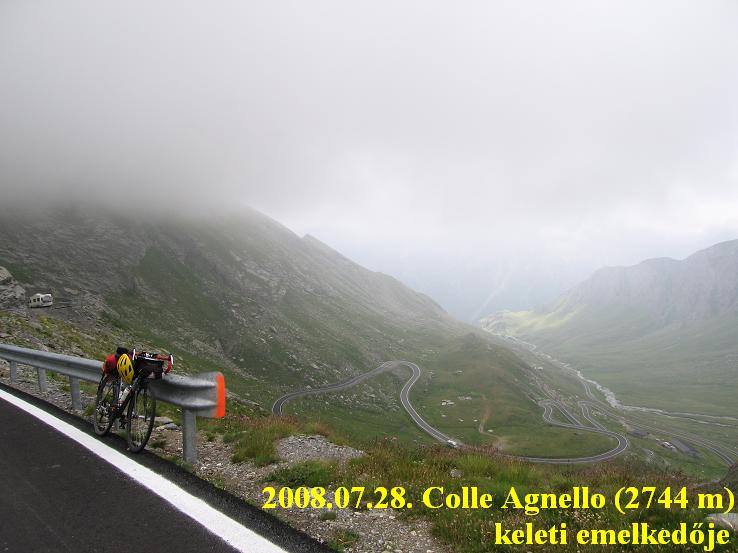 500m long with standing out from the saddle. At ca. 2100m height I saw a marmot running into a hole, than I waited for him… and it was funny to see - through the videocamera with which I zoomed onto him - how he pushed his bottom out, then turned back and came out with his face but only to the edge of the hole.
In the last kilometers few times clouds were flying around / in front / behind me, sometimes I could see the valley or the col, another times not. I enjoyed it very much.
After arriving back to the camping it was funny to hear a man who walked next to the camp that he saw me cycling up. He was on Colle Agnello too. After packing up my tent and kit the first half an hour cycling was very light, than I had to push the pedals with more and more strength, but the rain was faster and caught me.
Because waiting a little bit for the end of raining I arrived at the camping of Cuneo at half past 8. We sent an sms to each other with Mauro Repetti, because it was that we meet next afternoon at Tirano, so to do the challenge of Trittico Mortirolo the following day.

29th July, 2008, Tuesday: travelling by train from Cuneo via Torino, Milano to Tirano
The travel from Cuneo to Tirano was the same than in the previous year, but this year I could travel a special, faster train between Torino and Milano. There was a digital sign in the carriage which showed the actual speed (max 145 km/h, the temparature outside and inside, and the time..)
At Tirano Mauro waited for me. Last evening (or this day ?) he sent an sms to me, that it's better to sleep by him, which was ideal for me, while I couldn't sleep well in the night. After shopping for next day we watched his very good DVD about Mortirolo which showed at every second the picture what the cyclists saw, the actual steepness, the number of kilometers and the height. Before the DVD I felt enough strength in me - after the previous 10 day of cycling, but the DVD (the middle of Mortiriolo is 14% steep for 6 kms) frightened me a little bit, so I told to Mauro: "-It's better to forget what we had seen and to remain optimistic. That will be a similar day as on Ventoux, it will be fantastic without any problem.
For the lunch the older son of Mauro arrived just to meet me which was a real nice surprise for me.

30th July, Wednesday: Trittico Mortirolo = 104,3 km + 3620 m heightdiff.
That was a day which remains a memorable, perfect day forever what one can imagine!
This day will remain forever the most memorable, perfect day imaginable! We intended to cycle the 'Trittico Mortirolo', which means climbing the 3 climbs of Passo Mortirolo in a day. Passo Mortirolo is one of the hardest climbs of the Giro d'Italia. Every second year, for the last 10 years or so, it is one of the stages of the Giro.
After an early wake up, we had a special breakfast which is good for cycling. We left some of our bags with Mauro's wife, Stefania, who - with their son, Simo - followed us 2 hours later. I carried some food and clothes and about 1.5 kg repair set and pump with me.
We left Tirano in wonderful morning sunshine, cycling along a nice stream. I was confident and wasn't afraid of the day of climbing. I felt that the day would be wonderful and perfect.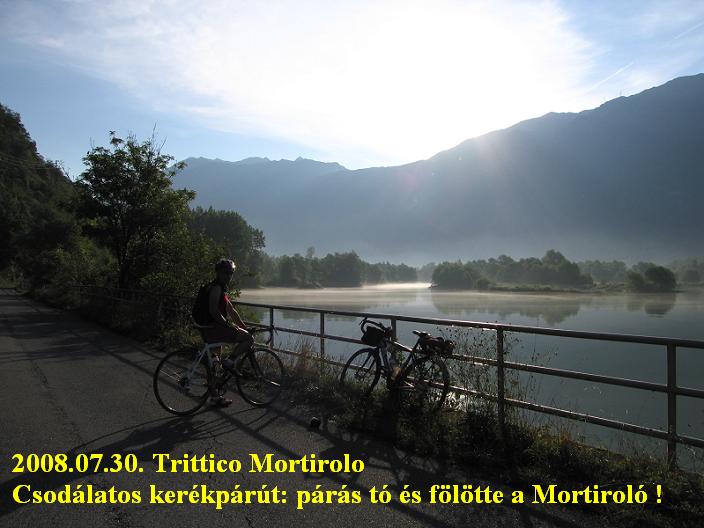 In Mazzo, at the Bar Mortirolo we got the first stamps and took photos, then started the hardest climb of Passo Mortirolo. I often took video whilst cycling or with short stops. The first 3 km (8-10 % steep ) were just for warming up, then at a small church the real climb started. As we were talking, telling each other stories, I was excited and I hardly felt the 14-16% steepness. I was amazed at the feeling I had beside the memorial wall of Marco Pantani, where we took photos and videos of each other. Although we stopped where I wanted for photos or videos, at other times I took them during cycling, and we arrived for the last 2-3 - not so hard - km at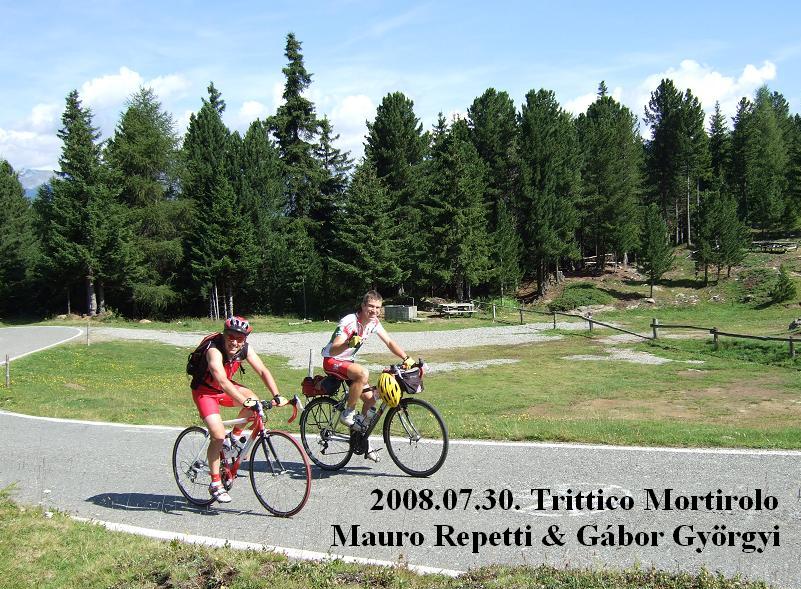 10 am. I enjoyed coming out of the forest and seeing the view towards the pass; I imagined what it would be like when there were a lot of fans shouting to the cyclists. After we met with Stefania and Simo they took more photos of us. We arrived at the top at half past 10 am, half hour before we had planned.
We met only 2-4 other cyclists there. After eating some food (I ate normal cake, ban: muesli-bar and banana) we said hello to them and rolled down to Grosio, the other bottom of Passo Mortirolo, where we got our 2nd stamp, and Mauro had his 2nd coffee.
This climb caused no problem for us again: it didn't feel so hard, as its steepness was variable:
sometimes 14-16%, sometimes only 7-8%. In the middle of the climb we met with 2 guys, who came from behind and began cycling in front of us. One of them shouted: 'allez, allez!' to try and show that he was a more serious cyclist than we were, at which point I became a little angry and started to push the pedals harder and overtook him. His legs suddenly seemed not to be so strong!
The German guy was stronger, so we followed him for half km, but after that we returned to our normal speed. In the last kilometres, Stefania and Simo were waiting for us again and took more photos. After stopping for a while and taking videos about 4-5 French guys cycling excitedly towards the top I followed Mauro, who
waited for me at the finish line. When I arrived there he took out a white shawl or handkerchief and started to wave it like a flag: I laughed! It was very nice of him.
Earlier, Mauro told me that it is hard for him to eat so much as it is needed, so I tried to make Mauro to eat more to prepare for the last climb. I felt very good, but Mauro was worried about his legs, because he is better at climbing for hours without stopping, but the mixture of climbs and descents is not so good for his legs.
The feeling / mood was fantastic at the top: there were Germans, French, Italians there and Spanish guys there too. The cyclists cheered each other with pleasure, and Mauro waved his flag at them too! Then we were amazed by 2 veteran Italian men, who climbed it from Mazzo at the age of 74 and above (as I remember)!
We got our third stamp at Monno, where I asked Mauro to roll down 3 km to the main road. 'The climb is complete only from there!' I told him. But I had to add that the official route only goes down to Monno and not to the main road. That meant almost 200m height difference.
What was interesting about this climb was that Mauro had not done it before, whilst I had already cycled it on a summer night in 2006. As opposed to the other two, this climb had another feel, passing through long kilometres of fir tree forest with 'only' 7-9% slope and only about 1-2 km at 12%. We saw rainfall east and south of us, so I was asking above: 'Please don't start raining before half past six!' And it worked! Just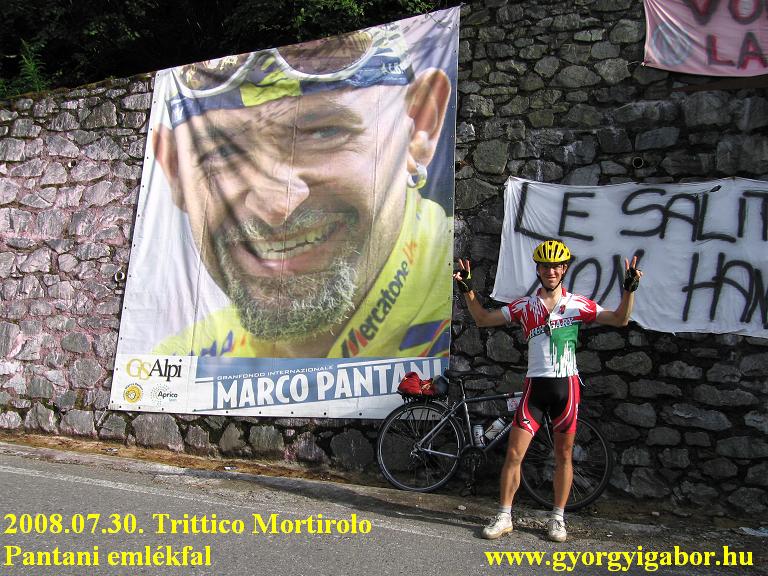 Just before the pass, at Bar Mortirolo we said 'cheers!' to each other with drinks in our hands and congratulated each other. At the top we took photos and videos of us arriving there with big smiles on our faces.
Downwards, at the Pantani memorial wall, we stopped and Mauro had the idea of writing a sentence onto the banner which had been put there for this reason: 'Thanks Marco for the memories!' Cycling towards Mauro's house, we visited his wife at her workplace, where he greeted the people with pride. In the evening I was invited by the family to go to a restaurant above Tirano, from where we could see Mortirolo just opposite us! That friendly, late dinner was a fantastic end to the day. I was happy that all of us - Stefania and Simo too - had enjoyed the day.
I remember this day as one of the three most unforgettable days of my tour in 2008 and one of the 10 best days of cycling in my life. In September I sent them an edited video film about it, with which I could recompense a little of what I had got from them.
(thanks Mauro for the grammatical corrections)

In December 2008 Mauro informed me that our photo (as finishers) can be found at the site of the organizer, here. :-)

31th July, 2008, Thursday: Tirano - Bormio - Passo Stelvio (2760 m) - Prad = 95 km + 2573 m heightdifference
Although previous day I climbed 3 times the Mortirolo, I went on with my tour without any rest or light day, but a hard one: a climb with my bicycle with panniers on it onto the 2760 m high Passo Stelvio from Tirano (440 m) , a continuous heightdifference which is between the ten hardest in my life. After saying Good bye to Mauro and his nice family I cycled to Bormio usually on average steep road, but there was 3 hard kilometers that was truely memorable. I hoped that before Bormio it wouldn't climb above Bormio and the 10% steepness will end in a km…. but it went on 3kms long and made me angry. But after a while I thought it's positive side: that was a good test before climbing Stelvio, which last two kms were also 10-12% steep.

I cycled up to Passo Stelvio in 2001, but not from Bormio, moreover I hadn't known that side. In 2008 Passo Stelvio (as Agnello) was another pass above 2700m that I climbed with packed bicycle in 2008 for the first time.
For me the middle of the climb was really nice with the tunnels, the lot of hairpinbends above each other and the waterfall, high mountains and a glacier. It's better to have enough water int he bottles, because to 2000m there is no place to get water. At the restaurant I sat down and during eating a little bit I knew that sure I do this last really hard climb of the tour without any problem, so the main part of the tour would end that day.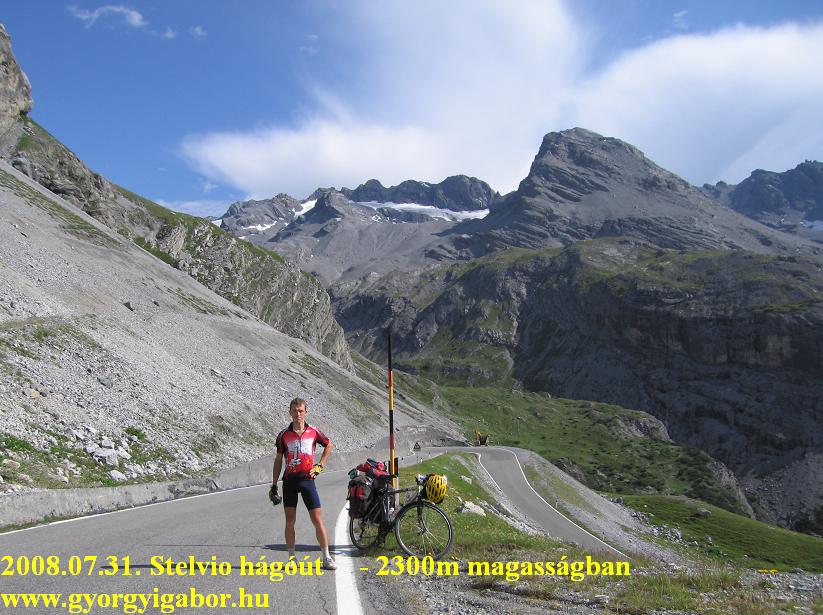 The last two kms were really 10-12% steep, but I cycled there with excitement and pleasure and happiness. The landscape was fantastic and the traffic on Stelvio wasn't as bad as I was afraid of.
On the top I wasn't in a hurry; I looked around calm and bought a few gifts, a jersey for me, I waited for a few minutes to be on the webcam picture as a friend of mine suggested me so to save on his computer. At last I cycled up to the ca. 2780m situated Tibethütte, from where I could get more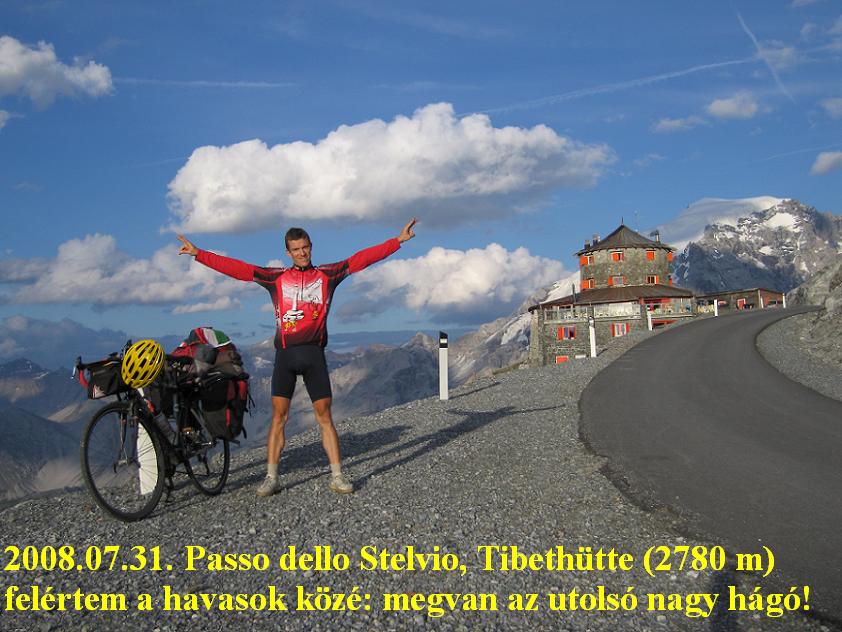 beautiful view to the east climb of Stelvio and where I could take fantastic photo about the snowy Ortles and the the bicycle and me.
I built up my tent - again after sunset - 1800m lower, in the modern and good camping of Prad.

1st of August, 2008, Friday: Prad - Val Martello (2061 m) - Prad - Reschenpass (1504 m) - Pfunds = 148 km + 2392 m heightdifference
My last serious climb in Italy was the valley of val Martello, where I saw strawberry fields at the height of 1700m. That was a surprise ! The climb had a few hard sections: 3 km long 10% steepness at the beginning of it, then 10% steepness for ca. 2km long before the lake and the dam and at the end 10-14% stepness for ca. 2km long. Arriving at the 1800m high situated lake I could see dark clouds behind the lake, at the Ortles, but at that height I was to finish the climb. 15 minutes later it was raining and after waiting a little bit by a tree I decided to cycle up despite of the rain. Because the steepness I didn't feel the cold.

After rolling back to the Venosta valley it was a good decision to choose the bicyclepath just beside the mountains. Despite its 3-4 km gravel section upwards it was faster than on the main road. In the last 5-6 kms I was almost time trailing in the light rain. After the rain not all of the clouds went away, but I decided to go to Austria, where I wanted to sleep to be able a good bicycletour next (last) day.
I was cycling almost between rainzones: the previous went in front of me towards Austria, the next one I saw east from me and the third was behind we, although I hadn't seen for a while. I choose the bicyclepath to Reschenpass for that point when a light rain caught me. I don't know how far, how long the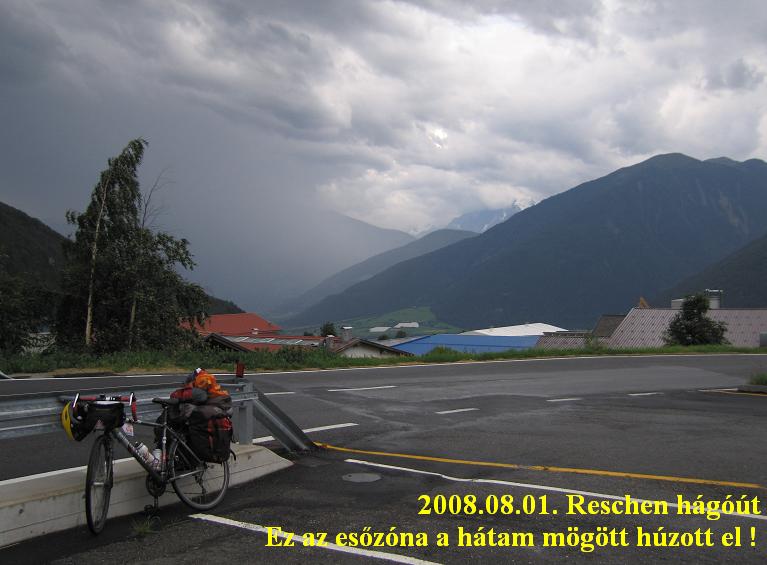 bikepath went seperately, ca 1-2kms from the road. The main road was 2kms east from the bikepath, and there was no rain yet. On the plateau of Reschenpass I started to increase my speed and I was timetrialing for 15-20 minutes when a normal rain caught me immediately. I didn't want to get on a raincoat, so I tried to go out of the rain. At the pass I had to get on the raincoat for the descent where I cycled in dark. Surprisingly the camping of Pfunds was over so I had to (and could) find a room for the night at half past 10 pm. I got for only 29 EUR.
2nd August 2008, Saturday: Pfunds - Landeck - Fliess - Pillerhöhe - Landeck = 75 km + 1030 m heightdiff.
On my last cycling day I woke up for nice sunshine but cold weather. Because of this and because I didn't feel enough motivation after the three main challenges (Ventoux*3, Mortirolo*3 + Bonette from the sea) I felt better to have a light day with cycling. I didn't hurried, but focussed to enjoy every minutes of the last day.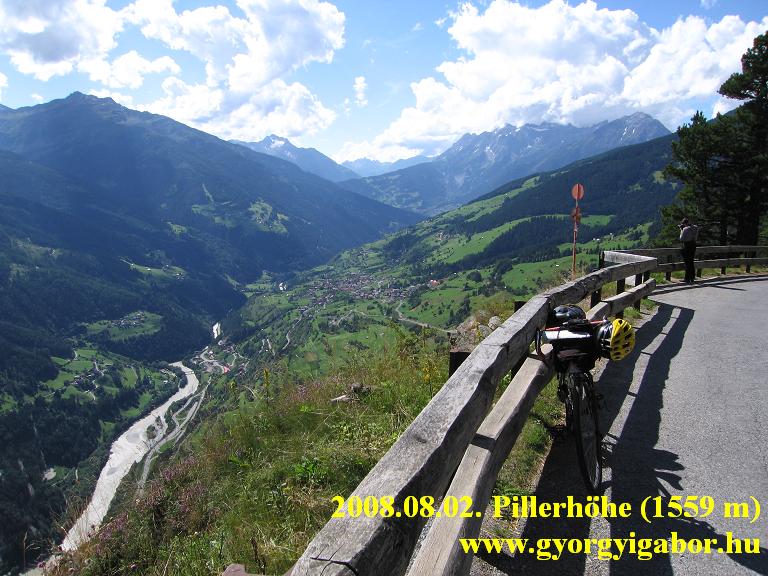 After paying for the camping in Landeck (where I found a lot of cyclists because of the cyclemarathon next day) I didn't have enough time for 2 BIG climb with arriving back before sunset, so I spent a little time in a webcafe and then choose the 6 km 10% steep climb to the Pillerhöhe (link of the climb ).
I enjoyed very much the hard, panoamic climb, the 10% steepness and I felt that the long straight sections would let high speed downwards. From the op there was fantastic panorama from the southern snowy mountains over the valley of Inn to Landeck. On the descent I had a little moment when I welt fear to hit the wall, but without it I reached 74 km/h.

(Interesting paralel with my tours: the 1st day was just as long as in 2007, the last day was so light and was finished on so hard climb (10% steepness onto the end) than in 2005 on Silzersattel.
In the evening I got the last wonderful feeling when I was surfing on the web: on the website of the photographer on the Mt Ventoux, I could find the photos about me. After it, it took me longer to fell asleep. ?

3rd August 2008, Sunday: Traveling by train from Landeck to Vienna, then from Vienna to Budapest = ca. 950 kms.

Conclusion:
(statistics: although I climbed only 8 BIGs during this tour, if I count those which I climbed 2nd or 3rd on the same or other side of them, then I climbed 19 BIGs. That's only for the comparison….)

With this tour I reached the number of 108 climbed ascents (89 cols) above 2000 m by my bicycle of which 34 happened with my touringbike with heavy pack on it.

I think I could finish a very good cycletour. Although because my failure at the airport with the bike caused that I lost one day at Bedoin while my bike was repaired, but maybe I needed that day for resting.
After my first serious fully alpine tour in the French Alps in 2004 or after cycling through the Pyrenees in 2007 I felt that every day was superb, part of an unforgettable tour. After my tour in 2008 it's not the same, but it has three milestones which remain unforgettable, fantastic: the three climb of Mont Ventoux in a perfect day, then cycling the most heightdifference on paved road in Europe from seaalevel to the CIme de la Bonette (2802 m) by my touringbike with 24kgs pack on it, and then the Trittico Mortirolo with Mauro and sometimes with his family and with that fantastic dayclosing at that panoramic restaurant.



Of course I thought about why the non milestones days remained only "average", why they didn't give me more. I think one reason can be the fact that after there are no new alpine paved high passes, the ones I know can't give me so much motivation, experience when I cycle up to a new, unknown one. I could feel the same "huge" feeling when I cycled onto these cols by packed bicycle.

The other thing… is the lack of a tourmate. During the tour I sometimes thought about it, but - although I had a tourmate for a wonderful day thanks to Mauro and a partner for a good chat for an evening - on the whole I think this way my tour was more peaceful, and I hed less tension. I didn't felt pressure not to stop, not to spend so much time for only enjoying the place, view, and I finished my days when I wanted. I felt me well from the start to the end, I enjoyed the whole tour.

As we look at the "cold data", we compare this tour with other tours of mine:

In 2008 I climbed 11 Hors Categorie ascent (up to 4 with my panniers); I climbed more than this: 13 Hors cat. (6 with heavy panniers) ascent only once, in 2005
In 2008 I climbed 5 times (nearly 6 times) more than 1500m heightdifference on climbs, of which 2 was with heavy packs. Before it only 2004 was, when I climbed 5 similar ascent of which 3 was climbed with heavy panniers. (2005: 3 / 2; 2006: 4 / 1; 2006: 3 / 1)
In 2008 I cycled above 2700m 5 times (3 times with heavy packs). This is a record; data for other years are: 2004: 3 / 2; 2005: 2 / 0; 2006: 0; 2007: 0.
In 2008 I was riding my bike on 1807 km while climbed 32109 m heightdifference on 15 days which I can count for whole days. Comparing this, in 2005 during 17 days I cycled 38418 m heightdifference, in 2007 also on 17 days I cycled 37611 m.
Although that is only one day of the tour, but in 2008 I succeed to set a new personal record: 3004 m heightdifference in one day with a bicycle with heavy panniers on it. (another good value is the 2573 m on the following day of Trittico Mortirolo ). The next one is 2887m and 2753 m from 2005. In the Pyrenees (2007) I had two hard days with 2687 m and 2617 m heightdifference. On my 2-3 week long tours in 2008 I cycled 4615 m heightdiff on one day with minimum packed bicycle; that's another record during a tour. (In Hungary my record form house to house is about 5100 m heightdifference with my touringbike.)
---

GYÖRGYI GÁBOR